Willowbrook PBIS team hosts annual end-of-year barbecue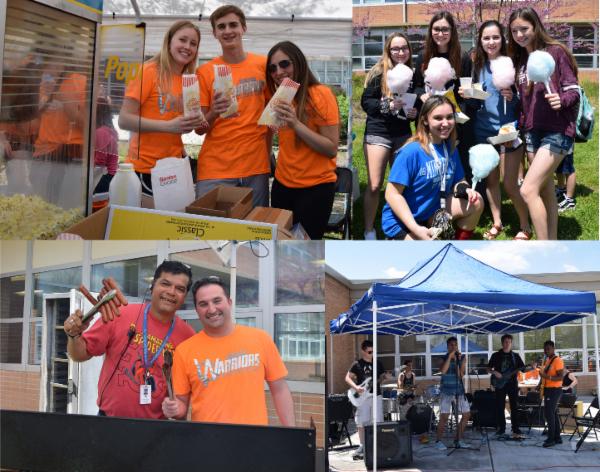 Top left: Willowbrook seniors (from left) Grace Wachholz, Thomas Waldorf and Samantha Corso help hand out popcorn during the school's annual end-of-year Positive Behavioral Interventions and Supports (PBIS) barbecue on May 15. Top right: Students enjoy a treat during the event. Bottom left: Willowbrook dean Julio Del Real (left) and Athletic Director Brandon Murphy grill during the barbecue. Bottom right: Members of the Willowbrook Rock Band provide entertainment. They are (from left) sophomore Brandon Smith, junior Liam Riesen, junior Noah Garrett, sophomore Ben Miller and senior Justin Smith.
On May 15, the Willowbrook Positive Behavioral Interventions and Supports (PBIS) team hosted its annual end-of-year barbecue.
The PBIS program was implemented in fall 2007 to teach students expected behaviors, rules and what it means to be a Willowbrook Warrior. The goal of the program is to develop a positive school climate through creating common language and standards. The barbecue is a time to celebrate improved behaviors at Willowbrook.
Staff and students volunteered during the event, and administrators took to the grill and cooked up a tasty lunch for participants.