Welcome back, Willowbrook Warriors! The information below is provided as a resource to help you stay connected with your alma mater.
Alumni database
Calling all Willowbrook Warrior alumni!
We want to stay in touch with you to share all of the amazing things happening at your alma mater. Willowbrook was built in 1959 and is still home to the Warriors. We continue to celebrate the Warrior Pride, Tradition and Excellence that fills our halls each year, and we want to connect with you – our alumni. Be sure to fill out the information at www.dupage88.net/wbalumni to receive news and highlights from Willowbrook. Go, Warriors!
---
Upcoming class reunions
Class of 1973 50-year reunion
When: Sept. 22 and 23, 2023

For more information: See/click on the image below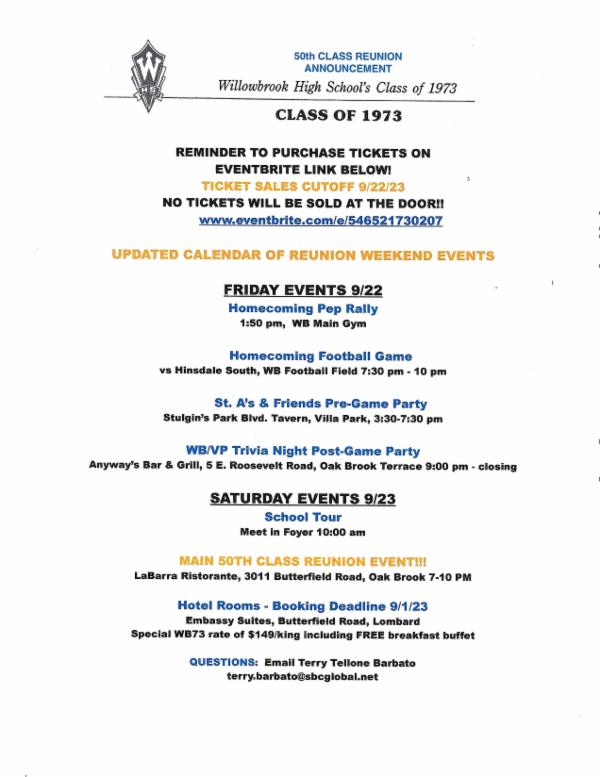 Class of 2003 20-year reunion
Dates: Sept. 29 and 30, 2023
When and where:
Sept. 29: Time TBD - Tour of Willowbrook High School, 1250 S. Ardmore Ave. in Villa Park


Sept. 30: 7 to 10 p.m. - WhirlyBall Naperville, 3103 Odyssey Court in Naperville


Sept. 30: 10 p.m. - After-party at locations in Naperville (details coming soon)
Tickets: Cost is $65 a person (additional donations appreciated)
To register and buy tickets: Go to https://wbhsclassof2003reunion.rsvpify.com (deadline is Sept. 16, 2023)
Those who are interested in serving on the planning committee can contact Sarah Godzicki (Daly) at wbhs.classof2003@gmail.com.
To stay up to date with all the reunion details and happenings, join the Facebook group at https://www.facebook.com/groups/977852939557873/.

Please Note: The reunion information on this page is intended for informational purposes only. Inclusion on this website does not constitute any sponsorship or endorsement of the event(s) by DuPage High School District 88, nor does DuPage High School District 88 assume any responsibility for the events.
If your class is planning a reunion, we can help spread the word! We will post the details on this web page, as well as our electronic District 88 Newsletter and social media! Contact District 88 Director of Community Relations Dani Brink at dbrink@dupage88.net or 630-530-3989 to get the word out about your event!
---
Willowbrook Distinguished Alumni/Service Recognition Program
The Distinguished Alumni/Service Recognition Program is an opportunity to celebrate those individuals who have made significant contributions to the Willowbrook community.

Distinguished Alumni/Service Recognition
---
"Willowbrook Remembers" Veterans Memorial
Become a permanent part of school history by supporting the "Willowbrook Remembers" Veterans Memorial. Your personalized and engraved paver brick is now available to commemorate those who have served our country. Buy a regular Supporter Paver, a Dedication Paver or a special Military Service Paver to honor your or a loved one's service to the U.S. To buy a paver, click the button below.
"Willowbrook Remembers" Veterans Memorial
---
Skyline (Willowbrook's student newspaper)
View the first two editions of Skyline (from 1959 and 1960), Willowbrook's student newspaper, at the link below.