Winners of Willowbrook's Warrior Pride Essay Contest announced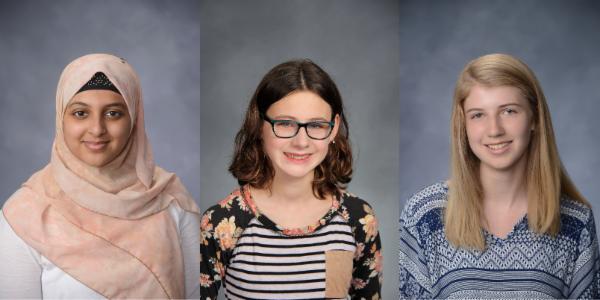 Pictured are the winners of this year's Willowbrook Athletic Booster Club Warrior Pride Essay Contest. They are (from left) senior Afrah Hasan (1st place), freshman Emily Maher (2nd place) and senior Annie Ross (3rd place).
Each year, the Willowbrook Athletic Booster Club – with the help of Willowbrook English teacher Jim White – offers students an opportunity to express what Warrior Pride means to them through an essay contest.
The entries are voted on by the Athletic Booster Club Board, and the winner receives $100 and has his/her entry printed in next year's sports programs. Second place receives $50, and third place receives $25. This year's winners are:
1st place: Senior Afrah Hasan (read her winning essay at https://www.dupage88.net/site/public/files/?item=4453)
2nd place: Freshman Emily Maher
3rd place: Senior Annie Ross
Students, be sure to look for information about the Warrior Pride Essay Contest next year to participate in this event.