Willowbrook names February recipient of 88's Best recognition
This video may take up to a minute to start after click the play button depending on your connection speed and browser.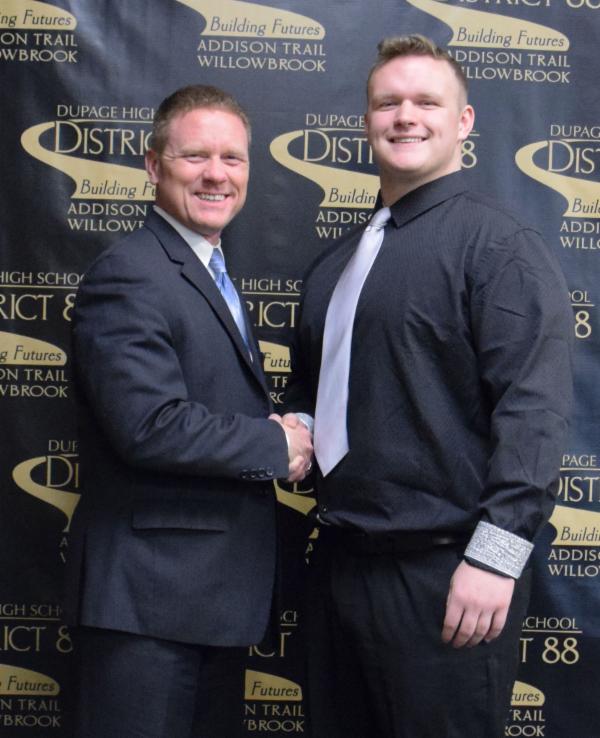 Pictured is Willowbrook senior Matthew Knudtson (right), who has been named as the school's February recipient of 88's Best recognition. He's pictured with Willowbrook Principal Dr. Daniel Krause.
Matthew Knudtson has been named as Willowbrook's February recipient of 88's Best recognition for his outstanding service work. Knudtson, a senior, was recognized during the Feb. 25 District 88 Board of Education meeting. To watch Knudtson's 88's Best presentation, click the video above.
Knudtson consistently gives back to his school and community, while serving as a role model and leader within the class of 2019. He is dedicated to helping those in need, provides a warm and positive outlook in all situations and supports the success of others throughout Willowbrook and beyond. As a student, Knudtson consistently pursues the most rigorous courses available at Willowbrook. At the conclusion of his high school career, he will have completed eight Advanced Placement (AP)/college-level courses, as well as a multitude of Honors courses. As a result of his academic success, Knudtson has been named to the Honor Roll each semester of his high school career, has received the Outstanding Freshman Award and is an inductee of the National Honor Society.
Knudtson also is an active member of our student body as an athlete and steward of leadership. He has been a member of the Football and Wrestling teams, has been recognized as an All-Conference and Academic All-State athlete and has been named as a team leader and captain. He also serves as a New Beginnings Leader to help ninth-grade students transition to high school and has been a student presenter during several school events. Knudtson is an original member of the Youth Equity Stewardship (YES!) series at Willowbrook, promoting and supporting an inclusive and accepting learning environment for all students. That program is led by Benjie Howard and Wade Antonio-Colwell, and the goal is to prepare students to recognize and learn from the diversity around them (read more at https://www.dupage88.net/site/page/9713).
Beyond Willowbrook, Knudtson regularly volunteers in the community to shovel driveways for senior citizens and assists with events such as the annual Lauren Kiefer Memorial 5K. He also serves his church as a children's mass leader and is a primary caregiver for his grandfather on a daily basis. Through his work, Knudtson emphasizes the power of a smile to help others feel included and valued in a positive way.
"I have had the pleasure of knowing Knudtson since his freshman year in class and Warrior Time," said Maritza Francisco, Willowbrook social studies teacher. "He is a thoughtful and caring young man, who brings energy and positivity to any situation. His smile is contagious, and he truly represents Warrior Pride!"
Mike Haussmann, Willowbrook Physical Education, Health and Driver Education Department Head, agreed.
"Knudtson has been making a positive difference in our school culture since his freshman year," Haussmann said. "I had the opportunity to coach Knudtson during his freshman football season, and even though he was a freshman playing up with sophomores, he was always supportive of all of his teammates. For the past three years, I've had the pleasure to continue working with Knudtson in our Online Individualized Fitness and Training class. He is a strong contributor to our discussions, as well as a person who leads by example. We are all very proud of him."
Willowbrook social studies teacher Chuck Sheridan said Knudtson's genuine care for others is what makes him stand out.
"Knudtson is a fabulous young man, and it has been a pleasure getting to know him this year," Sheridan said. "He'll often joke about not working terribly hard on course assignments, yet I can always count on him to be prepared for class and to be involved in discussions. More importantly, Knudtson is an incredibly nice guy, who always shows concern for others. I wish him nothing but the best and congratulate him on this well-deserved honor!"
Knudtson plans to major in business or pre-med while potentially continuing his athletic career at University of St. Francis, Illinois Wesleyan University or North Central College.
• District 88 values the hard work and achievements of students and wants to make sure students are honored and recognized for their accomplishments. The District 88 Board of Education and administration created the 88's Best award to highlight students' success. That award recognizes nine Addison Trail and nine Willowbrook seniors each school year for reaching their personal best in various areas. Recipients are honored during a District 88 Board of Education meeting in one of the following areas: academics, highly improved performance, extracurricular activities, service work or performing arts/electives. They receive an 88's Best glass sculpture and a certificate to a local restaurant.