Willowbrook names January recipient of 88's Best recognition
This video may take up to a minute to start after click the play button depending on your connection speed and browser.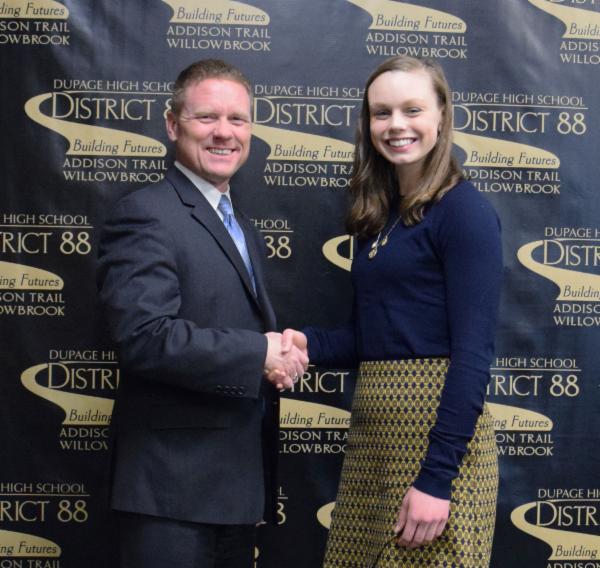 Pictured is Willowbrook senior Elissa Haake, who has been named as the school's January recipient of 88's Best recognition. She's pictured with Willowbrook Principal Dr. Daniel Krause.
Elissa Haake has been named as Willowbrook's January recipient of 88's Best recognition for her stellar involvement in extracurricular activities. Haake, a senior, was recognized during the Feb. 25 District 88 Board of Education meeting. To watch Haake's 88's Best presentation, click the video above.
Haake will graduate as one of the most decorated and celebrated student-athletes and leaders in her class, as well as in the history of the school. As a student, Haake consistently pursues the most rigorous courses available at Willowbrook. At the conclusion of her high school career, Haake will have completed nine Advanced Placement (AP)/college-level courses, as well as a multitude of Honors courses. Haake is an AP Scholar, earned a score of 35 on her ACT and has been named to the Distinction Honor Roll each semester of her high school career. She also has been recognized with the Outstanding Freshman Award and is an inductee of National Honor Society, National English Honor Society and Math Honor Society.
Beyond the classroom, Haake further commits her time and talents to a variety of events, clubs and activities at Willowbrook. She is a New Beginnings Leader and Board Member, volunteers as a coach for Special Olympics and is the most decorated swimmer at the state level in the history of Willowbrook. Haake is a nine-time state qualifier, served as captain of the Addison Trail-Willowbrook Girls Swim Team for two years, earned All-Conference honors all four years and set school and West Suburban Conference records. She is a two-time Illinois High School Association (IHSA) Sectional Champion as well and earned All-State recognition twice. Outside of Willowbrook, she can be found swimming competitively for her private club and serves as a personal coach to youth swimmers in the summer.
"Haake is incredibly hard working and dedicated in all her pursuits," said Jim Kedvesh, Willowbrook science teacher. "She is the embodiment of the true meaning and nature of these terms, not the generic superlatives they have become over the years. In class, she takes ownership of her educational goals and is an active participant. Furthermore, Haake is one of the nicest and most upbeat students I've taught."
Willowbrook world language teacher Cristy Hebreard agreed.
"I have only met Haake this year, but have heard her name for a few years," Hebreard said. "She is everything I imagined – kind, intelligent, respectful, talented and driven, to name a few. She always has a smile on her face in my class and doesn't hesitate to ask questions or participate. She has a thirst to better herself and her classmates and teammates. I wish I had more time with her in class these past four years, because she has made my teaching career that much more enjoyable. I know she will do BIG things at Purdue University, not only as a swimmer, but especially as a student. She has made and will continue to make Willowbrook proud."
Haake has committed to join the Purdue University Women's Swimming & Diving Team, where she will compete in freestyle. She plans to pursue a degree in actuarial science.
• District 88 values the hard work and achievements of students and wants to make sure students are honored and recognized for their accomplishments. The District 88 Board of Education and administration created the 88's Best award to highlight students' success. That award recognizes nine Addison Trail and nine Willowbrook seniors each school year for reaching their personal best in various areas. Recipients are honored during a District 88 Board of Education meeting in one of the following areas: academics, highly improved performance, extracurricular activities, service work or performing arts/electives. They receive an 88's Best glass sculpture and a certificate to a local restaurant.