Willowbrook senior finds success, second home on the ice rink with skating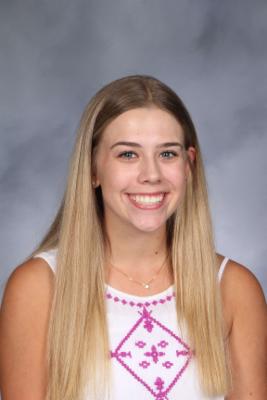 Pictured is Willowbrook senior Kate Freeman, who will travel to Italy from Feb. 11 to 18 to compete in synchronized skating during the Spring Cup as part of Team USA with Chicago Jazz Junior Team.
It's 5 a.m., and Willowbrook senior Kate Freeman is exactly where she wants to be – skating on the ice and losing herself to the movement and music.
Tying up laces and spending countless hours on the ice is Freeman's normal routine, as she has been skating since age 7. She trains and competes in synchronized skating, ice dancing and solo. And from Feb. 11 to 18, she will travel to Italy for the Spring Cup as part of Team USA with Chicago Jazz Junior Team. During that event, Freeman and her synchronized skating teammates will compete a "Beauty and the Beast"-themed short program and a "Zorro"-themed long program. Each event consists of required elements such as footwork, jumps, spins and forming shapes.
"I feel the most at ease on the ice, and I love the friendships you make through synchronized skating," Freeman said.
The Spring Cup will be Freeman's first international competition, and she hopes in the future to reach the Senior level and to qualify for the U.S. Championships and then the World Championships.
Freeman said she practices 20 to 40 hours a week, and her workouts include ballet, agility training, running and more. She added she truly enjoys her time at the rink and has found a second home on the ice. However, there was a time when Freeman wasn't sure skating would remain part of her life. In 2016, Freeman's mother, Mary, underwent a liver transplant, and Freeman left the sport for a while to help support her family. As her mother recovered, Freeman rediscovered her love for skating and joined Chicago Jazz about a year ago.
Freeman said Willowbrook has provided a supportive environment, where she can balance her skating aspirations/schedule and schoolwork. She has been admitted to several colleges/universities and is still deciding which school she will attend. She plans to pursue a career as a pediatric neurosurgeon and hopes to continue skating while in college.
"Skating has given me a lot of opportunities to travel and has taught me many life lessons," Freeman said. "When I have a bad day, being at the rink gives me an outlet, and I always feel better when I step off the ice."