Willowbrook inducts Athletic Hall of Fame Class of 2019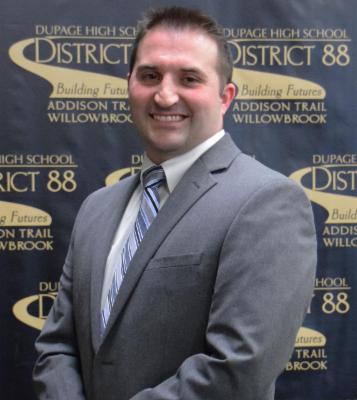 Pictured is Willowbrook Athletic Director Brandon Murphy.
Each year, we have an amazing opportunity to recognize and celebrate the athletic and personal successes of standout Willowbrook student-athletes through our annual Athletic Hall of Fame. This distinguished event was founded in 2010 and is a way to honor the alumni who have helped create and continue the legacy of Pride, Tradition and Excellence that is Willowbrook High School. As a graduate of Willowbrook myself (class of 2001) and a former member and coach of the Wrestling Team, I can say with pride the Athletic Hall of Fame is truly a special event for the entire school community.
On Jan. 31, we inducted members into the Athletic Hall of Fame Class of 2019 during a dinner at The Carlisle in Lombard. Willowbrook Principal Dr. Daniel Krause and I greeted the crowd, and my father – former Willowbrook Head Wrestling Coach Bryan Murphy – served as the emcee. Willowbrook alumnus Tim Daly (class of 2000), who was inducted into the Athletic Hall of Fame in 2014 for football and wrestling, gave the Address to the Class of 2019.
The 2019 Athletic Hall of Fame inductees are:
Bill Biliskis (Class of 1968 – Cross-Country, Track and Field)
Yolanda Lewis Marshall (Class of 1997 – Basketball, Volleyball, Track and Field)
Cherise Porter (Class of 2012 – Basketball, Volleyball, Track and Field)
Steve Congenie (Class of 2012 – Wrestling)
Orv Wilkin (Coach – Baseball, Football) – represented by his daughter Amy Shoemaker
1998-99 Wrestling Team
Brendan McArdle (Outstanding Contributor)
Pom Pon Team (2006-07 – State Champion)
To see the program from the evening, which includes information about the 2019 inductees and past inductees, go to www.dupage88.net/AthleticHOF2019. The honorees also were recognized before the Willowbrook Varsity Boys Basketball game on Feb. 1.
For more information, feel free to contact me at brmurphy@dupage88.net or 630-530-3406.