Willowbrook names December recipient of 88's Best recognition
This video may take up to a minute to start after click the play button depending on your connection speed and browser.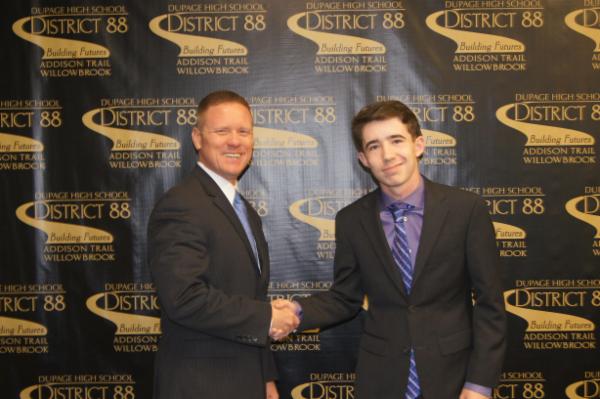 Pictured is Willowbrook senior Jackson Hathaway who has been named as the school's December recipient of 88's Best recognition. He was honored during the Dec. 17 District 88 Board of Education meeting and is pictured with Willowbrook Principal Dr. Daniel Krause.
Jackson Hathaway has been named as Willowbrook's December recipient of 88's Best recognition for his academic performance. Hathaway, a senior, was recognized during the Dec. 17 District 88 Board of Education meeting. To watch Regans' 88's Best presentation, click the video above.
As a student, Jackson consistently pursues the most rigorous courses available at Willowbrook High School. At the conclusion of his high school career, he will have successfully completed 13 Advanced Placement courses as well as a multitude of honors courses. As a result of his academic success, Jackson has been recognized as a National Merit Semifinalist, an Advanced Placement Scholar with Distinction, received the Outstanding Freshman Award, and has been named to the Distinct Honor Roll each semester of his high school career. In addition, he has earned the Seal of Biliteracy, is President of Civitas (our Social Studies Honors Society) and is an inductee of the National Honors Society as well as the Math and World Language Honor Societies.
Beyond the classroom, Jackson actively displays his skills and talents in a variety of arenas in and out of Willowbrook High School. He is a member of our Mock Trial and Model United Nations organizations. In addition, Jackson has participated as a member of our Golf Team, has earned multiple recognitions as part of Model United Nations and Mock Trial competitions, is employed as a caddy, and volunteers regularly in the community.
Social Studies Teacher Brett Maguire states, "I have known Jackson since he was a freshman in my AP Human Geography class. From the start of his high school career Jackson has set the bar on dedication, hard work, and focus in academics. He is a gifted student, but more importantly, capitalizes on those gifts by making the most of every assignment and class period. He takes nothing for granted and appreciates the opportunity to better himself with every school day."
Dimitri Martinez, Spanish Teacher, also says, "Jackson is one of the most insightful, knowledgeable and motivated students I have had the pleasure of teaching during my time at Willowbrook. Jackson consistently enriched classroom discussions by adding innovative and unique perspectives to a variety of issues and topics. When working with his peers, Jackson was always considerate and patient. Jackson was the first non-heritage student to earn a 5 on the AP Spanish Language exam and he accomplished this as a junior! His achievements to date speak volumes, but I am most eager to hear about Jackson's future. Time will, without doubt, show us just how outstanding Jackson truly is."
Jackson's plans for the future include applying to the University of Chicago, the United States Naval Academy, Harvard, and the University of Illinois, where he plans to pursue a degree in Political Science.
District 88 values the hard work and achievements of students and wants to make sure students are honored and recognized for their accomplishments. The District 88 Board of Education and administration created the 88's Best award to highlight students' success. That award recognizes nine Addison Trail and nine Willowbrook seniors each school year for reaching their personal best in various areas. Recipients are honored during a District 88 Board of Education meeting in one of the following areas: academics, highly improved performance, extracurricular activities, service work or performing arts/electives. They receive an 88's Best glass sculpture and a certificate to a local restaurant.