Willowbrook names September recipient of 88's Best recognition
This video may take up to a minute to start after click the play button depending on your connection speed and browser.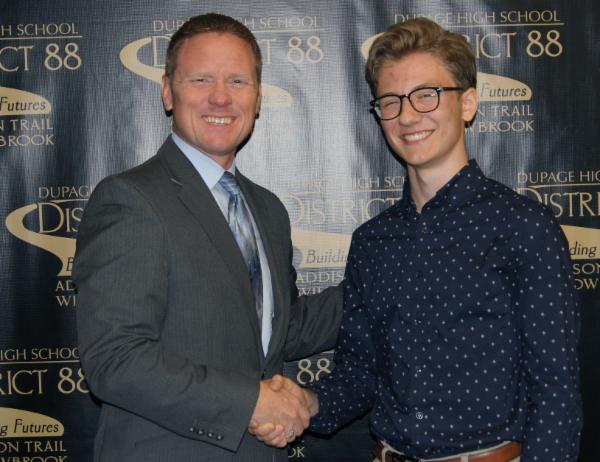 Pictured is Willowbrook senior Maxwell Polanek (right), who has been named as the school's September recipient of 88's Best recognition for his outstanding academic accomplishments. He's pictured with Willowbrook Principal Dr. Daniel Krause.
Maxwell Polanek has been named as Willowbrook's September recipient of 88's Best recognition for his outstanding academic accomplishments. Polanek, a senior, was recognized during the Sept. 24 District 88 Board of Education meeting. To watch Polanek's 88's Best presentation, click the video above.
As a student, Polanek consistently pursues the most rigorous courses available at Willowbrook. At the conclusion of his high school career, he will have completed 12 Advanced Placement (AP)/college-level courses, as well as a multitude of honors courses. As a result of his academic success, Polanek has been recognized as a Semifinalist in the 2019 National Merit Scholarship Program and as an AP Scholar with Distinction and has been named to the Distinction Honor Roll each semester of his high school career. He also earned the highest possible ACT composite score of 36 (which is a curriculum-based achievement exam that measures what students have learned in school), was recognized with the Outstanding Freshman Award and is an inductee of Civitas (Willowbrook's Social Studies Honor Society) and National Honor Society.
Beyond the classroom, Polanek further demonstrates his skills and talents in a variety of areas. He is a member of Math Team, Science Olympiad and Model United Nations. He also has participated on the wrestling and cross-country teams and serves as a Youth Equity Stewardship (YES!) series ambassador, promoting and supporting an inclusive and accepting learning environment for all students. Outside of Willowbrook, Polanek plays the piano and competes in fencing and hockey.
"I am truly excited to have had the opportunity to work with Polanek, and I can honestly say he will continue to be successful in his future endeavors," said Brian Chelmecki, Willowbrook Math Department Head. "He also will share his success with his peers along the way, as he consistently raises the level of those around him by asking thought-provoking questions, enlisting participation of others and demonstrating leadership skills among his peers."
Willowbrook science teacher Jim Kedvesh agreed.
"Polanek has demonstrated a level of understanding that is lightning fast and also very thorough," Kedvesh said. "He is able to explain his ideas well and also is incredibly respectful and polite in class. I already see him as a quiet class leader in the way his peers might wait to respond and then defer to his answer."
Willowbrook social studies teacher Maritza Francisco said Polanek's love of learning is what makes him stand out.
"Polanek is an amazing young man," Francisco said. "He is sensitive, empathetic and intuitive to people and situations around him. He has a thirst to learn and pursues his interests with passion. I had the pleasure of getting to know him his freshman year, and he continues to impress me with his aptitude and intellect."
Polanek plans to apply to University of Wisconsin–Madison, California Institute of Technology (Caltech), University of Michigan, University of Minnesota and Rose-Hulman Institute of Technology, where he plans to pursue a degree in chemical engineering.
"Polanek's transcript is truly an accomplishment, but his willingness to step out of his comfort zone has really impressed me," said Scott Forcash, Willowbrook Guidance Counselor. "He has continued to take on new responsibilities, try new sports, volunteer within the school and community and work a job. He not only has a love of learning within the classroom, but he is always exploring ways to better himself. He is humble, compassionate toward others and is always looking to make himself better. Polanek truly is a well-rounded student, and I have no doubt he will make great contributions to our society."
District 88 values the hard work and achievements of students and wants to make sure students are honored and recognized for their accomplishments. The District 88 Board of Education and administration created the 88's Best award to highlight students' success. That award recognizes nine Addison Trail and nine Willowbrook students each school year for reaching their personal best in various areas. Recipients are honored during a District 88 Board of Education meeting in one of the following areas: academics, highly improved performance, extracurricular activities, service work or performing arts/electives. They receive an 88's Best glass sculpture and a certificate to a local restaurant.