Willowbrook names August recipient of 88's Best recognition
This video may take up to a minute to start after click the play button depending on your connection speed and browser.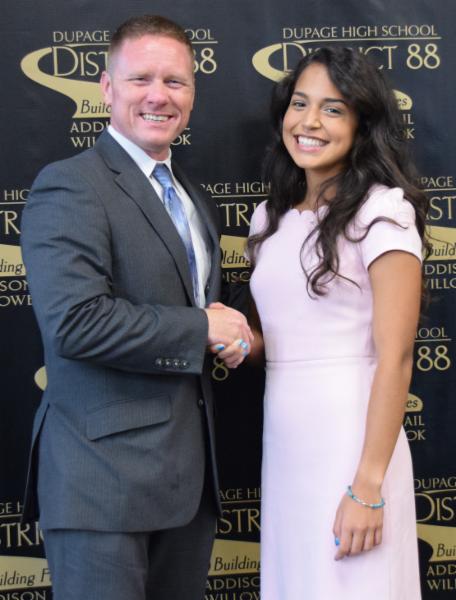 Pictured is Willowbrook senior Victoria Palma, who has been named as the school's August recipient of 88's Best recognition. She's pictured with Willowbrook Principal Dr. Daniel Krause.
Victoria Palma has been named as Willowbrook's August recipient of 88's Best recognition for her outstanding academic accomplishments. Palma, a senior, was recognized during the Aug. 27 District 88 Board of Education meeting. To watch Palma's 88's Best presentation, click on the video above.
As a student, Palma consistently pursues the most rigorous courses available at Willowbrook. At the conclusion of her high school career, Palma will have completed 13 Advanced Placement (AP)/college-level courses, as well as a multitude of honors courses. As a result of her academic success, Palma has maintained a class ranking within the 99th percentile. She also is an AP Scholar with Distinction and has been named to the Distinction Honor Roll each semester of her high school career. She serves as President of Willowbrook's National Honor Society and is an inductee of Civitas (Willowbrook's Social Studies Honors Society) and Tri-M (Modern Music Masters) Honor Society, as well as the Math, English and World Language honor societies.
Beyond the classroom, Palma is a member of Math Team, Science Olympiad, Scholastic Bowl, Student Council and Key Club. She also is a member of the Girls Cross-Country and Track teams and qualified for state this past year in cross-country. She also is the school record holder for the mile. Palma participates in the Youth Equity Stewardship (YES!) series at Willowbrook as well, promoting and supporting an inclusive and accepting learning environment for all students. That program is led by Benjie Howard and Wade Antonio-Colwell, and the goal is to prepare students to recognize and learn from the diversity around them.
"Palma exemplifies what an amazing, well-rounded, enthusiastic student is," said Liz Zwart, Willowbrook math teacher. "She gives 100 percent at all times! Her pizazz during team activities in my class encouraged other students to want to excel at a higher level. Palma lives and breathes the Warrior Code. She is respectful, kind, inclusive of all and determined to be her best at all times."
Willowbrook English teacher Dan Fliegel agreed.
"Palma is no doubt a kind, conscientious and diligent student – always engaged in the material and seeking to improve her already impressive skills as a writer and thinker," Fliegel said. "But she also brings a big-picture view to the many topics of the day, connecting class discussions to issues in politics, history and social justice. It will be exciting to see what great things she achieves this year and in the future."
Willowbrook Girls Track Team coach Gary Walker said what makes Palma stand out is her self-motivation, focus and desire to achieve her goals.
"My first year coaching track was Palma's freshman year," Walker said. "I feel very fortunate to be in a role to help coach a student-athlete with Palma's drive, work ethic and ability. To say Palma is the most conscientious, hardest-working student-athlete with whom I have ever worked in my 23 years of coaching wouldn't even begin to describe what type of person she is. Palma is so on top of everything and wants to be amazing at everything. It is going to be extremely rewarding to be there at the end of her senior year to see where her Willowbrook story ends."
Palma's plans for the future include applying to University of Wisconsin–Madison, California Institute of Technology (Caltech), Massachusetts Institute of Technology (MIT), Northwestern University, University of Michigan, Purdue University, University of Florida, University of Minnesota and University of Illinois at Urbana-Champaign. She plans to pursue a degree in chemical engineering.
"Palma is easily the most self-driven student I have worked with in my 15 years," said Willowbrook counselor Scott Forcash. "Whether it's in the classroom, running cross-country or track or anywhere else in her daily life, Palma sets lofty goals for herself and continues until she accomplishes them. Palma has been a superstar here at Willowbrook, but I'm even more excited to see what she will accomplish after she graduates, as the possibilities are limitless."
District 88 values the hard work and achievements of students and wants to make sure students are honored and recognized for their accomplishments. The District 88 Board of Education and administration created the 88's Best award to highlight students' success. That award recognizes nine Addison Trail and nine Willowbrook students each school year for reaching their personal best in various areas. Recipients are honored during a District 88 Board of Education meeting in one of the following areas: academics, highly improved performance, extracurricular activities, service work or performing arts/electives. They receive an 88's Best glass sculpture and a certificate to a local restaurant.