Guest speaker shares expertise in economics with Willowbrook students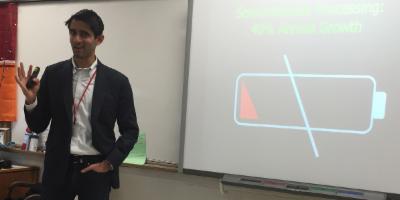 On Dec. 16, students in Willowbrook social studies teacher Andrew Levin's economics class had the chance to engage with a special guest speaker.
Samir Mayekar, a former Director of National Security Personnel at the White House and a current entrepreneur, spoke with students about how the federal government assists companies with guaranteed loans. The class then debated the implications of federal interventions into the free-market economy. Mayekar also discussed his current job as co-founder and CEO of SiNode Systems, which is working with the car and cell phone industries to develop more efficient batteries. He shared career advice as well, including the importance of networking and of working in all three sectors – the government, the private sector and the nonprofits.
Levin said Mayekar's visit was a great opportunity for students to apply many of the theoretical economics concepts taught in class to real life.