Willowbrook English teacher publishes book of poetry, 'How Music Works On Us'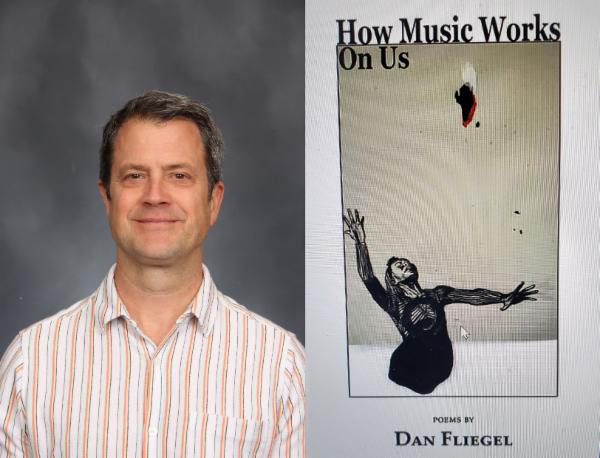 When Willowbrook English teacher Dan Fliegel (pictured above) enrolled in his first poetry course as a high school freshman, he quickly knew it would become a lifelong passion.
"My teacher, Mr. Rodriguez, encouraged me and was influential in developing my writing," Fliegel said. "His class was the first time I heard an author read his work live. I can still hear his voice – it was that powerful of an experience."
Fliegel has been writing poems ever since and recently had his first book, entitled "How Music Works On Us," published by Main Street Rag Publishing. The work features more than 30 of Fliegel's poems, and each piece uses the ramage style (created by Robert Bly), which has 10 syllables per line, with eight lines total.
Fliegel said his poems focus on a variety of aspects, from deeper topics to humorous themes. He was inspired during the coronavirus disease 2019 (COVID-19) pandemic, when school was taking place online.
"I was meeting with my classes and Poetry Club on Zoom, and I gave us all a prompt to write a ramage poem," Fliegel said. "I just got on a roll and kept going. I often set goals for myself, and I made a challenge to write 100 poems."
Fliegel said the title of his book refers to the sounds of his poems – a trademark of the ramage style – and he hopes people enjoy taking a short break to get lost in the writing. The cover of the book was designed by his friend and former bandmate Damon Locks. Fliegel said his next project will be a longer manuscript of poetry.
"Poetry is different from other types of writing – there's more attention on specific word choice and the power and beauty of language," Fliegel said. "It's one of the oldest art forms and reaches across languages and cultures. What I love about poetry is it's free and accessible for everyone to try, and it's inherently self-expressive, because it's unique to the writer."
"How Music Works On Us" is expected to be released in February 2024, but copies can be reserved in advance for a discounted price of $7.50 (plus shipping). For more information, and to buy the book, go to https://mainstreetragbookstore.com/product/how-music-works-on-us-dan-fliegel/.