Willowbrook names September recipient of 88's Best recognition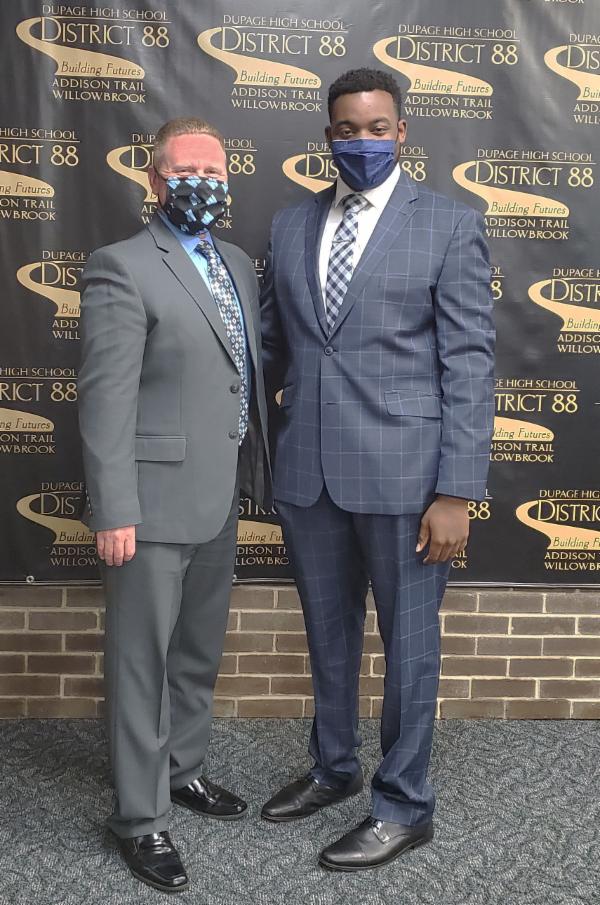 Eric Veal Jr. (pictured at right, with Willowbrook Principal Dr. Daniel Krause) has been named as Willowbrook's September recipient of 88's Best recognition for his outstanding academic accomplishments. Veal, a senior, was recognized during the Sept. 20 District 88 Board of Education meeting. To watch his 88's Best presentation, click on the video above.
It is an understatement to say Veal defines Willowbrook Pride, Tradition and Excellence and the Respect, Responsibility and Engagement we hope for in all Warriors! Veal attributes his success to the support provided by his family, teachers and peers, as well as his desire to give back every day. Veal often is referred to as a member of the Willowbrook staff, as he regularly presents to parents, students and the community.
Academic achievements:
Completed eight Advanced Placement (AP)/college-level courses
Completed a multitude of honors courses
Recognized as an AP Scholar
Named to the Distinction Honor Roll each semester of his high school career
Inductee of the National Honor Society, where he served as Sergeant at Arms his junior year and is Vice-President this year
Inductee of the National English Honor Society
Inductee of the Math Honor Society
Inductee of the Tri-M (Modern Music Masters) Honor Society
Serves as President of Civitas (Willowbrook's Social Studies Honor Society)
Serves as President of Thespians (Willowbrook's Theatre Honor Society)
Recipient of the Outstanding Freshman Award
Recipient of the Human Relations Award (students who receive this award are recognized for their attention to cultural diversity and human dignity and for reinforcing that behavior in all they do for Willowbrook and surrounding communities)
Named as an Outstanding Student in the Social Studies Department
Involvement at Willowbrook:
Assisted with the development of two courses at District 88 (United States History: American Mosaic and Equity and Justice in America), resulting in students being able to earn college credit with Elmhurst University for the second course
Cofounder and cohost of The Brook Channel, Willowbrook's student news channel
Helped coordinate a memorial in honor of Sandra Bland (Willowbrook alumna, class of 2005, who passed away on July 13, 2015)
Helped increase involvement in and awareness of Willowbrook's Black Organization for Student Success (BOSS)
Member of Willowbrook's Youth Equity Stewardship (YES!) program, which strives to prepare students to recognize and learn from the diversity around them
Volunteer at events such as Open House, Curriculum Showcase, Eighth-Grade Parent Night and Graduation
Ambassador to assist students who transfer to Willowbrook
Teacher Assistant in the Social Studies Department
Member of the Principal and Superintendent leadership teams
Member of the Prom Planning Committee
Facilitator of Restorative Justice and Listening Circles
New Beginnings Leader (a program where upperclassmen mentor freshmen and show them what it means to be a Willowbrook Warrior and assist them in adjusting to high school)
PE Leader
Relay For Life organizer (an event that raises funds for the American Cancer Society)
Has participated in more than 22 clubs during his high school career
Community and state-level involvement:
Two-year member of the Illinois State Board of Education (ISBE) Student Advisory Council (SAC), serving as President this year
Appointed by the ISBE to sit on a task force that is developing resource materials to support the Jett Hawkins Law, which bans discrimination in schools for hairstyles historically associated with race, ethnicity, or hair texture
Appointed to the ISBE Educational Equity Task Force (Veal will be the first student to co-chair a legislatively mandated task force)
Regular presenter and contributor at the local, state and national levels to raise awareness and increase student voice related to race, equity and inclusion, including with Operation PUSH, Loyola University Chicago, White Privilege Symposium and Black Lives Matter
Helped organize a student-led demonstration for race and equity
Volunteers with Feed My Starving Children and the food pantry at his local church
Future plans:
Veal plans to double major in political science and secondary education, with an emphasis in social studies. He intends to stay active with the ISBE and pursue a political career. He is applying to University of Maryland, Boston College, Georgetown University, American University and Brown University.
Staff member comments:
"I have so many great things I could share about Veal, and will likely do this entire year. Veal has easily become the 'face' of Willowbrook. He has made such lasting impacts in the school that will benefit many students in decades to come – from his work with BOSS to his role in helping to create the Equity and Justice in America course. Veal also was a tremendous asset to the work with the ISBE in the creating and implementation of the Culturally Responsive Teaching and Learning Standards. As a member of the ISBE Student Advisory Council, his impact is not only with students at Willowbrook, but with students throughout Illinois. Due to his work and effort, he has been appointed to the ISBE Educational Equity Task Force and will be the first student to co-chair a legislatively mandated task force. There is never a project Veal has shied away from doing. Whether it is for New Beginnings, BOSS, the student news channel, YES!, Ambassadors, or any of his other clubs/organizations, he gets it done. When we call upon Veal, he is there (and there with a smile), and that is what he will be most remembered for."
- Dana Whittaker, Willowbrook Director of Counseling
"What an amazing young man! Veal takes on any challenge head on and sets the bar for all of us! Since day one, he took on the challenge of an AP class and did his best daily. He has impressed me from his early days as a freshman, pushing through and never giving up. His passion for learning and making a difference is evident in his pursuit to add our United States History: American Mosaic course. Coming from a small school to the large Willowbrook community, he did not skip a beat. He made this his second home, getting involved and caring about his community. Veal is inquisitive, personable, sincere and caring. He demonstrated his civic-mindedness by getting involved early on with YES!, organizing social justice events and representing our school and his fellow students at state/national-level events. His positive energy is infectious! He sets the goal and strives to make everyone around him better! Even through Zoom, he was able to reach out and make us all care! I am so excited for (his) next chapter and cannot wait to hear where (he goes) next and what (he) will accomplish! Someday I will be able to ask (him), 'Mr. President – remember me, your AP Human Geography teacher?' Congratulations, and keep up the great work!"
- Maritza Francisco, Willowbrook social studies teacher
"Veal is one of the most incredible Warriors, leaders, role models and advocates I have known in my 20-year career at Willowbrook High School. I was blessed to have Veal in class during the most unprecedented times of my career. As our school faced significant trauma, including remote learning, a pandemic, civil unrest and the loss of our Superintendent, Veal was there to provide words of comfort and guidance. Veal inspires those around him to have important conversations about race and equity, and his impact extends beyond our school. Veal is a cheerleader for all activities and all students. He brings levity and leadership to class; he made us laugh hysterically on Zoom and took on the role of teacher assistant when my Wi-Fi let me down (although we did joke sometimes that this was his master plan to take over the class). Veal was excited to be able to wear the Willy the Warrior mascot costume last year – but one day, Willy should wear an Eric Veal costume, as Veal truly epitomizes what it means to be a Warrior!"
- Terri Woebel, Willowbrook English teacher
"I have the pleasure of having Veal as a student leader in my freshmen PE class, and boy oh boy is he ever a leader in every sense of the word. Veal is the most relatable, outgoing and take-charge leader I have ever had. He is not afraid to let kids see you do not have to be great at everything, but you should try your best always. He is friendly and approachable, but will not hesitate to call out students who are making questionable choices. I call him the mayor of Willowbrook and just recently learned he plans to one day run for office. I know he will be great, wherever life takes him."
- Amy Stark, Willowbrook physical education teacher
District 88 values the hard work and achievements of students and wants to make sure students are honored and recognized for their accomplishments. The District 88 Board of Education and administration created the 88's Best award to highlight students' success. That award recognizes nine Addison Trail and nine Willowbrook students each school year for reaching their personal best in various areas. Recipients are honored during a District 88 Board of Education meeting in one of the following areas: academics, highly improved performance, extracurricular activities, service work or performing arts/electives. They receive an 88's Best glass sculpture and a certificate to a local restaurant.