Willowbrook names August recipient of 88's Best recognition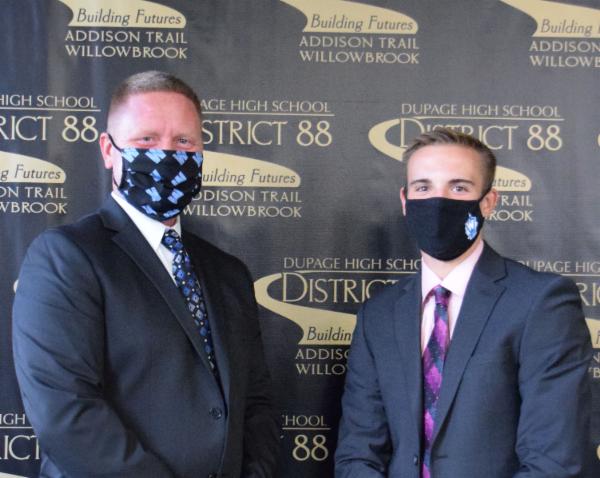 Alex Kuban (pictured above, right, with Willowbrook Principal Dr. Daniel Krause) has been named as Willowbrook's August recipient of 88's Best recognition for his outstanding academic accomplishments. Kuban, a senior, was recognized during the Aug. 30 District 88 Board of Education meeting. To watch his 88's Best presentation, click on the video above.
Kuban has built an outstanding record of academic and extracurricular achievements at Willowbrook. He attributes his success to the support provided by his parents and teachers, as well as his desire to learn and grow each day.
Academic achievements:
Completed 12 Advanced Placement (AP)/college-level courses
Completed Project Lead The Way courses
Completed a multitude of honors courses
Maintained a class ranking within the 99th percentile
Named as an AP Scholar with Distinction
Named as an Outstanding Student in the science department
Named to the Distinction Honor Roll each semester of his high school career
Inductee of the National Honor Society, Civitas (Willowbrook's Social Studies Honor Society), National English Honor Society, Math Honor Society and World Language Honor Society
Recipient of the Human Relations Award (Students who receive this award are recognized for their attention to cultural diversity and human dignity and for reinforcing that behavior in all they do for Willowbrook and surrounding communities.)
Involvement at Willowbrook:
Member of the Project Lead The Way - Principles of Engineering class that was named as a state winner in the 2019-20 Samsung Solve for Tomorrow contest
Member of Math Team
Member of Econ Challenge
Member of Scholastic Bowl
Serves as a New Beginnings mentor and leader, assisting ninth-grade students in the transition to high school
Three-year member of the varsity boys soccer team (and serves as captain this year)
Community service:
Volunteered with District 45's STEM Days and annual Science Nights
Future plans:
Kuban's plans for the future are undecided, but include continuing his athletic career and academic career beyond Willowbrook.
Staff member comments:
"Kuban was in my Warrior Time his junior year, and we were fully remote. Kuban always made a point to say hello, how are you and goodbye each day. He is an amazing young man, with such a bright future. I cannot wait to see what successes await him. Thank you, Kuban, for not only making my year of remote learning such a better experience, but also for reminding me of why I do this job. I'm honored to know you. Good luck next year! We will miss you!"
- Cristy Hebreard, Willowbrook world language teacher
"I had the honor and pleasure of teaching Kuban in my Project Lead The Way - Principles of Engineering class during his sophomore year. In class, he did an excellent job of asking clarifying questions to truly understand a concept. For one of Kuban's honors assignments, he designed a 3D model of an arm for an action figure for a family member. After a few revisions, I'm pleased to share we 3D printed the arm, and it fit perfectly! I will always remember Kuban for his hard work and desire to truly understand class concepts. I know he will go on to accomplish great things in college and later in life."
- Josh Zwart, math and Project Lead The Way teacher
"Kuban was a member of the 2020-21 Willowbrook Scholastic Bowl Team. That team placed 4th out of 13 teams in the final ranking of the West Suburban Conference and then took 3rd place in the West Suburban Conference Tournament, with an upset win over Glenbard West. This was due in no small part to Kuban's contributions to the team. He is dedicated, reliable, hardworking and very smart. Definitely one of 88's Best."
- Ben Fenske, Willowbrook science teacher
"Kuban's personal dedication to his education is exemplary. Last year, he showed initiative to seek out a greater understanding when he felt he had any confusion, which, to his credit, is not often given his natural talent and abilities. He often led the way in participating in class and facilitating whole-class discussions, as well as in small groups."
- Eastman Tiu, Willowbrook science teacher
"As the varsity boys soccer coach, I am thrilled to see Kuban get recognized. He is our captain this year and is one of our hardest workers on and off the field. He really is an extension of the coaching staff, and we would not be as successful without him. On top of that, he is just a really nice person, and it is a pleasure for me to work with him. I've known him now for three years, and I will miss him when he goes, and our team will miss him as well."
- Dan Riskind, Willowbrook Boys Soccer Team Head Coach
District 88 values the hard work and achievements of students and wants to make sure students are honored and recognized for their accomplishments. The District 88 Board of Education and administration created the 88's Best award to highlight students' success. That award recognizes nine Addison Trail and nine Willowbrook students each school year for reaching their personal best in various areas. Recipients are honored during a District 88 Board of Education meeting in one of the following areas: academics, highly improved performance, extracurricular activities, service work or performing arts/electives. They receive an 88's Best glass sculpture and a certificate to a local restaurant.