Willowbrook names April recipient of 88's Best recognition
This video may take up to a minute to start after click the play button depending on your connection speed and browser.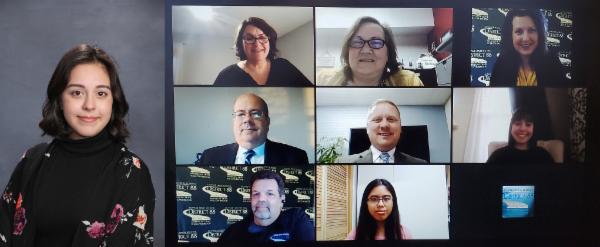 Left: Pictured is Willowbrook senior Caitlin Brennan, who has been named as the school's April recipient of 88's Best recognition for her outstanding academic accomplishments. Right: Brennan (pictured at right in the middle row) is recognized as Addison Trail's April recipient of 88's Best recognition during the District 88 Board of Education meeting on April 12.
Caitlin Brennan has been named as Willowbrook's April recipient of 88's Best recognition for her outstanding academic accomplishments. Brennan, a senior, was recognized during the April 12 District 88 Board of Education meeting. To listen to her 88's Best presentation, click the audio file above.
Brennan attributes her success and high achievement to the support and encouragement of her family and teachers. She also credits her struggles and perseverance during her junior year as she pushed herself academically, resulting in outstanding accomplishments.
Academic achievements:
Completed 13 Advanced Placement (AP)/college-level courses
Completed a multitude of Honors courses
AP Scholar with Distinction
National Merit Scholarship Finalist
Named to the Distinction Honor Roll each semester of her high school career
Received the Outstanding Freshman Award
Received the Human Relations Award (recipients are nominated by Willowbrook staff members for their outstanding character, sense of others and selfless behavior)
Inductee of the World Language Honor Society, Math Honor Society, National English Honor Society and Civitas (Willowbrook's Social Studies Honor Society)
Involvement at Willowbrook:
Section leader for Orchestra
Named to the Illinois Music Education Association (ILMEA) All-District Orchestra Ensemble
Theatre (on stage, pit orchestra and light crew)
Served as Assistant Director of Willowbrook's IHSA Contest Play this year ("Antigone Now"), which placed 5th overall
Speech Team member (Dramatic Interpretation, Dramatic Duet Acting and Oratorical Declamation, in which she qualified for and competed at the IHSA Sectional Speech Tournament this year)
Four-year member of the Girls Soccer Team
Four-year member of the Girls Swim Team (qualified for the IHSA Sectional competition and served as captain this year)
Future plans:
Major in engineering (Brennan is interested in aerospace/aeronautics and mechanical engineering)
Accepted into the engineering programs at University of Illinois Urbana-Champaign, University of Michigan and The University of Iowa
Staff member comments:
"I taught Brennan in AP Spanish Language during the 2019-20 school year, and though our face-to-face time was cut short, she did not fail to impress me, both in person and during Remote Learning. I am embarrassed to admit that for the entirety of the first semester, I thought Brennan was a senior due to her maturity, and it was quite a surprise when I finally discovered she was a junior – one of just a handful in the class. Whether it was giving presentations, practicing speaking, conducting independent research, or simply being an active member of the class, I could always count on Brennan to put forth effort in whatever we were doing. You can tell she cares not just about letter grades, but about advancing her knowledge and skills in academic subjects."
- Katherine Strand-Carroll, Willowbrook World Language Department Head
"Brennan is an outstanding representative of a true Warrior. She gives 100 percent at all times during class. She was always engaged, encouraged her team and was very helpful to anyone around her who was struggling on a concept."
- Liz Zwart, Willowbrook math teacher
"Brennan is a beautiful writer and orator! I was so blessed to have her in AP English, not only because she would share her brilliant insights in class, but also because I was able to chat about literature we have both read outside of the classroom. Brennan is a voracious reader, which is one of the reasons why I believe she is such a gifted academic. Her professional demeanor and genuine desire to succeed make her an incredible role model for others and help to raise standards for those around her. She has an incredible wit and a sharp mind and is absolutely deserving of this honor!"
- Terri Woebel, Willowbrook English teacher
"Brennan is a true Renaissance woman. She is so multitalented! Not only is she an excellent, inquisitive, hardworking and focused student, but she also has left an impressive mark on multiple extracurricular activities. She is quietly ambitious, but her drive and perseverance have served her well. She is genuine, kindhearted and modest about her achievements and successes. I am so proud of her and cannot wait to see what she accomplishes in the next chapter of her life."
- Maritza Francisco, Willowbrook social studies teacher
"Brennan has grown as an athlete and person exponentially during her four years as a varsity member of the AT-WB Girls Swim Team and has dedicated herself in various ways to the betterment of the team and herself. Brennan was chosen as a captain this year and has been a natural leader during the preceding years as well. Brennan is the kind of athlete who always shows up, never complains and just does what is expected of her. Swimming is a sport that requires so much diligence, mental clarity and tenacity. Brennan has proven these traits throughout the years in so many ways in and out of the pool. She manages school and athletics as most students do, but also has held a job, was a decorated member of the Speech Team, participated in Theatre, continued to cultivate her craft in the area of Orchestra, volunteered at her church and has somehow kept a smile on her face through it all. She truly juggles so many different responsibilities with poise and maturity and has a wide range of skills that made her the athlete she was and will make her the adult she is becoming and will be."
- Tara Murphy, Willowbrook English teacher and Head Coach of the AT-WB Girls Swim Team
District 88 values the hard work and achievements of students and wants to make sure students are honored and recognized for their accomplishments. The District 88 Board of Education and administration created the 88's Best award to highlight students' success. That award recognizes nine Addison Trail and nine Willowbrook students each school year for reaching their personal best in various areas. Recipients are honored during a District 88 Board of Education meeting in one of the following areas: academics, highly improved performance, extracurricular activities, service work or performing arts/electives. They receive an 88's Best glass sculpture and a certificate to a local restaurant.