Ally Week to support and celebrate diversity
April 19, 2021 - April 23, 2021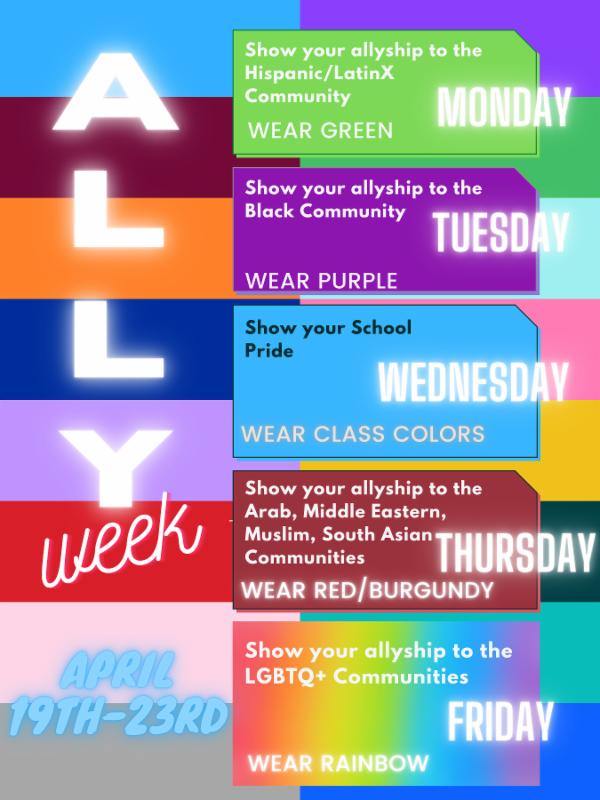 District 88 is proud to have a diverse school community – the district has about 40 languages and more than 30 countries represented among its families, and almost half of the nearly 4,000 students at District 88 speak a language other than English at home. District 88's core values include ensuring all students, staff and community members feel safe, valued, respected and welcome.
As part of that effort, Willowbrook students and staff will host the school's first Ally Week from April 19 to 23. This event is not only a celebration of diversity, but also is a time to recognize the allies who help keep the Willowbrook learning community safe for everyone – regardless of race, religion, sexual orientation or gender identity.
Each day during the week will feature a specific theme. See details below.
Monday, April 19: Wear green to show allyship for the Hispanic/Latinx community


Tuesday, April 20: Wear purple to show allyship for the Black community


Wednesday, April 21: Wear class colors to show school pride and solidarity with fellow Warriors



Seniors: Blue
Juniors: Black
Sophomores: Silver
Freshmen: White



Thursday, April 22: Wear red/burgundy to show allyship for the Arab, Middle Eastern, Muslim and South Asian communities


Friday, April 23: Wear the colors of the rainbow to show allyship for the LGBTQ+ community