Relay For Life of District 88 Youth seeking Student Committee members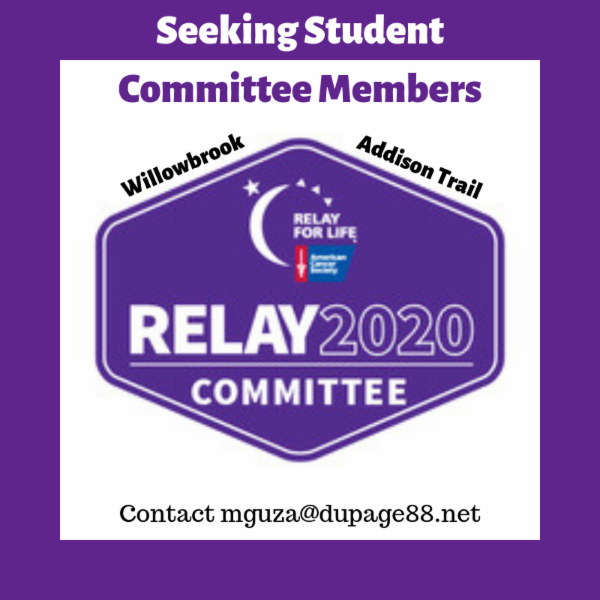 At District 88, giving back and helping others is a cornerstone of pride. One of the district's main fundraising events is the Relay For Life of District 88 Youth, which is the culmination of Willowbrook's Brook Olympics (a weeklong series of events and challenges created to enhance tradition, class spirit and pride at the school). Those events – along with "Go Pink" efforts in honor of Breast Cancer Awareness Month – raise funds for the American Cancer Society.
This year will be the district's 10th annual relay, and the event will take place on March 7, 2020, at Willowbrook. The event sponsors are looking for Addison Trail and Willowbrook pupils to join a Student Committee. Those group members will support Relay For Life adult staff in planning and facilitating "Go Pink" activities and events throughout the year, leading up to the relay. They also will promote and provide information about Relay For Life to other students and staff, help with registration and provide assistance during the relay (committee members will be recognized during the relay for their hard work). Students looking to earn National Honor Society (NHS) hours are encouraged to join.
Student Committee members are expected to attend bi-monthly meetings with Willowbrook staff and should sign up by Sept. 30. To become a Student Committee member:
E-mail Willowbrook Relay For Life Co-Sponsor MacKensye Guza at mguza@dupage88.net


E-mail Addison Trail Relay For Life Co-Sponsor Shannon Giertz at sgiertz@dupage88.net


Send a message through Remind (to join the group, text @k3fg27 to 81010)