Warrior Wellness: An inside look at Willowbrook's Driver Education program
Welcome to the first Warrior Wellness column of the 2019-20 school year!
Willowbrook students are working hard every day to become more educated with their health and wellness, and we are thrilled to showcase those accomplishments through this monthly column. In this edition, we feature our Driver Education Department.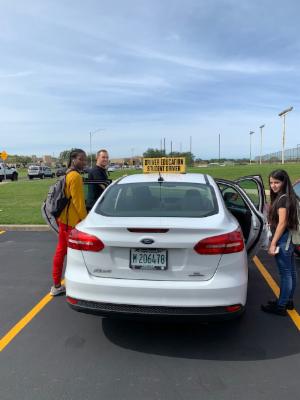 Driver Education prepares students for the challenges they will face on the road. Encompassing a core classroom component and a behind-the-wheel program, Driver Education works to ensure we put the safest drivers on the road. In the classroom, students focus on the importance of driving and all the responsibilities involved. Students develop core driving skills, with an opportunity to apply classroom learning on the street in the behind-the-wheel program.
The goal is for students to meet state standards after completing the classroom and driving experience. So far this semester, the focus has been on the permit process. Each student had to take a 40-question test and needed to receive an 80 percent to pass. After a student passes the written test, a vision and peripheral test are given to receive the permit application. After the student receives his or her permit (which costs $20), the state requires each student to document his or her time on a 50-hour timesheet to account for more practice outside of the behind-the-wheel program. Ten of those hours must be completed at night.
Our behind-the-wheel program is off to a fast start. The entire first session was booked within the first week of school. At any point throughout the school year, students can sign up at the bookstore and be placed with one of our 12 instructors. There are a total of six sessions throughout the school year, and we also offer summer sessions. The cost for behind-the-wheel is $220.
In the classroom, we are in unit one. This unit focuses on signs, shapes, basic vehicle controls and performing the most common driving maneuvers. The main reference point our educators use for driving information is www.cyberdriveillinois.com. The permit test and application can be found on that website as well. Our classroom Driver Education instructors are Eduardo Delacruz, Benjamin Maher and Clyde Ware.
If you have any questions, contact Department Head Mike Haussmann at mhaussmann@dupage88.net or Administrative Assistant Gina Mucha at gmucha@dupage88.net.
The Warrior Wellness column provides an inside look into the physical education, health and driver education classes at Willowbrook. This feature will highlight what students are working on in the classroom, as well as student successes in those departments.