Willowbrook hosts annual Student Activity Fair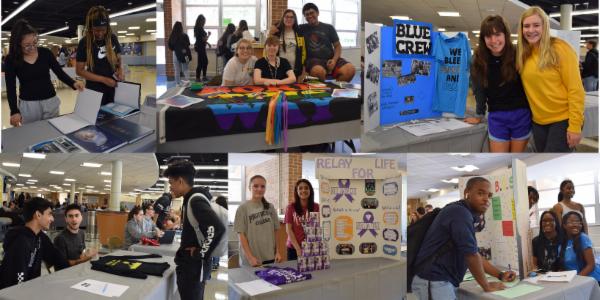 Top left: Willowbrook sophomore Tanicha Medina (left) and freshman Kyevoni Bonner visit the yearbook table during Willowbrook's Student Activity Fair. That event took place on Sept. 5 to inform students about the clubs and activities available at the school. Top middle: Willowbrook sophomore Alexis Jimenez (back left), junior Giovanni Romero (back right), sophomore Sydney Corpora (front left) and sophomore Toby Tennant (front right) share information about Willowbrook's Gender & Sexualities Alliance Network (GSA) during the fair. Top right: Willowbrook seniors Julianna Paulsen (left) and Chloe Harr share information about Blue Crew during the event. Bottom left: Willowbrook sophomore Hunaid Irfan (left) and senior Moustafa Elghor (center) speak with senior Michael Cuevas about Willowbrook's MSA club. Bottom middle: Willowbrook senior Fiona Murphy and Willowbrook math teacher Azahara Tello spread the word about this year's Relay For Life of District 88 Youth, which will take place on March 7. Bottom right: Students share details about Willowbrook's Black Organization for Student Success (BOSS).
On Sept. 5, the Willowbrook Student Council hosted the school's annual Student Activity Fair.
That event allows pupils to learn more about the activities and clubs offered at Willowbrook, and 26 groups participated this year. Research shows student success is directly related to involvement in school beyond the classroom, and the Activity Fair allows students to find an extracurricular activity that interests them to become more engaged.
More than 65 percent of the pupils at Willowbrook participate in activities, athletic programs and clubs. If students cannot find a club in which they are interested, they have the opportunity to start a new club. For more information, go to www.dupage88.net/WBStudentActivities.