Willowbrook names August recipient of 88's Best recognition
This video may take up to a minute to start after click the play button depending on your connection speed and browser.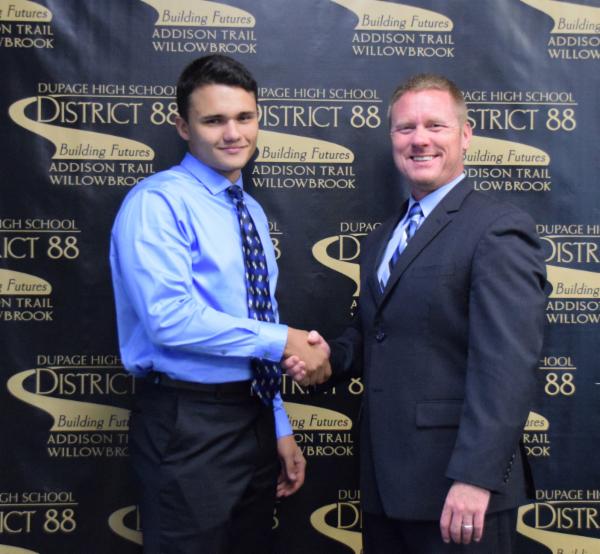 Pictured is Willowbrook senior Eric Hoda (left), who has been named as Willowbrook's August recipient of 88's Best recognition for his outstanding academic accomplishments. He's pictured with Willowbrook Principal Dr. Daniel Krause.
Eric Hoda has been named as Willowbrook's August recipient of 88's Best recognition for his outstanding academic accomplishments. Hoda, a senior, was recognized during the Aug. 26 District 88 Board of Education meeting.
As a student, Hoda consistently pursues the most rigorous courses available at Willowbrook. At the conclusion of his high school career, he will have completed 14 Advanced Placement (AP)/college-level courses, as well as a multitude of honors courses. As a result of his academic success, Hoda has maintained a class ranking within the 99th percentile, is an AP Scholar with Distinction and has been named to the Distinction Honor Roll each semester of his high school career. He also is an inductee of National Honor Society, National English Honor Society and Civitas (Willowbrook's Social Studies Honor Society).
Beyond the classroom, Hoda further commits his time and talents to a variety of events, clubs and activities at Willowbrook. He is a member of DECA and a four-year member of the Boys Soccer Team and the Addison Trail-Willowbrook Boys Swimming Team.
"(Hoda) was an academic champion, who was consistently engaged and interested in class," said Terry Artman, Willowbrook social studies teacher. "He asked questions that allowed the class to travel deeper into the topic of that lesson. He crushed his assessments on a regular basis. He was always ready for the next challenge I could create for him. He was a social champion in the classroom by providing help to other students and being a role model. It was a pleasure to have (Hoda) in class and take him on the journey into the AP Psychology world. He is a fantastic senior to have in our classrooms, hallways and athletic arenas."
Willowbrook math teacher Elizabeth Zwart agreed.
"(Hoda) is an outstanding math student, who shows the ability to think outside of the box when problem solving," Zwart said. "He shows true grit as a mathematician, as he doesn't quit when his first solution path doesn't work. (Hoda) is a mature and hardworking young man, whose determination will bring him success in his future endeavors."
Willowbrook English teacher Terri Woebel said Hoda's compassion and dedication to always doing his best are what make him stand out.
"I was lucky to have (Hoda) in AP English Language and Warrior Time last year," Woebel said. "I admire so much about (Hoda): his work ethic, his intelligence and his respectful, humble demeanor stand out as some of his most obvious qualities. I also appreciated his wit, the informed perspectives he would share in class and in his writing and his genuine kindness as well. He is incredibly bright, but he is always open to constructive criticism and constantly wants to improve himself."
Hoda is looking to apply to The University of Chicago, where he plans to pursue a pre-medical degree and continue his athletic career.
District 88 values the hard work and achievements of students and wants to make sure students are honored and recognized for their accomplishments. The District 88 Board of Education and administration created the 88's Best award to highlight students' success. That award recognizes nine Addison Trail and nine Willowbrook seniors each school year for reaching their personal best in various areas. Recipients are honored during a District 88 Board of Education meeting in one of the following areas: academics, highly improved performance, extracurricular activities, service work or performing arts/electives. They receive an 88's Best glass sculpture and a certificate to a local restaurant.