Addison Trail hosts end-of-year events
As the 2018-19 school year comes to a close at Addison Trail, the school recently hosted several events to celebrate the successes from the year.
Student Recognition Assembly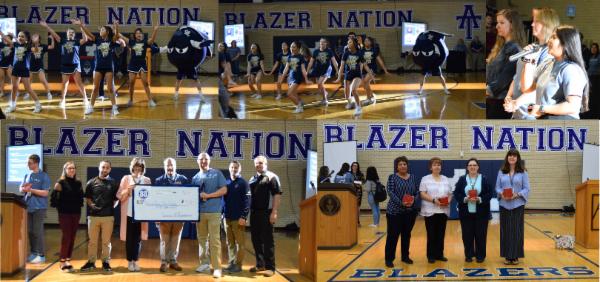 Top left and middle: The Addison Trail Cheerleading Team performs during the school's Student Recognition Assembly on May 2. The team was joined by Addison Trail's mascot, Bucky Blazer. Top right: Addison Trail senior Rosemarie Mercado sings the National Anthem during the event. Bottom left: District 88 Foundation Chairperson Sharon Kucik (third from left) presents a check for $2,000 to Addison Trail Principal Michael Bolden (fourth from left) for staff to develop a variety of instructional opportunities to benefit students. This year's District 88 Foundation mini-grant recipients are (from left) teachers Kira Bonk, Anthony Beltrano, Christopher Grice, Jack Andrews and Keith Santini. Bottom right: Pictured are Addison Trail staff members who will retire at the end of this school year. They are (from left) Rosanne Treccia, Olga Chavez, Pamela Sifuentes and Mary Kelsay. Not pictured are Juliann Boudouris, Candace Richardson and Patricia Vendegna.
On May 2, Addison Trail hosted its annual Student Recognition Assembly. During that event, students were honored for their accomplishments in academics, athletics and extracurricular activities. The 2018-19 staff retirees were highlighted as well. They are Juliann Boudouris, Olga Chavez, Mary Kelsay, Candace Richardson, Pamela Sifuentes, Rosanne Treccia and Patricia Vendegna. Boudouris also was honored as the 2018-19 recipient of the school's Outstanding Achievement Award. To read more about the retirees, go to https://www.dupage88.net/site/public/files/?item=4452.
The District 88 Foundation also presented mini-grants to staff members for the sixth year. That financial support will allow staff to develop a variety of instructional opportunities to benefit students. The foundation is proud to give $2,000 to Addison Trail staff members this year. The recipients are:
Christopher Grice: Bridges Physics Concepts – Lab Activities
Anthony Beltrano: Scientific Periodic Table Showboard
Jack Andrews and Nadia Gomez-Moran: BRC Chicago Voyagers 19-20
Keith Santini: Snap Circuits
Kira Bonk: 5th Annual Cardboard Regatta
Senior Takeover Day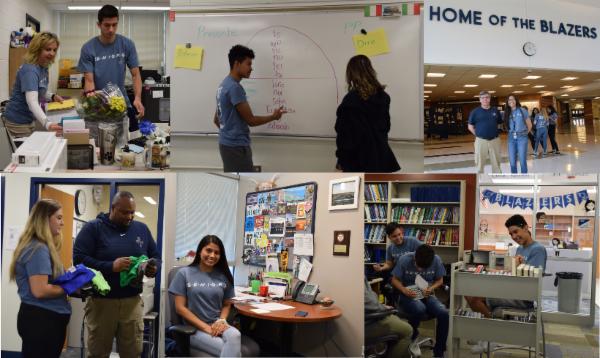 Addison Trail seniors participate in Senior Takeover Day on May 2. Top left: Joseph Mosny helps Addison Trail social studies teacher and Orchesis co-sponsor LeVonne Cescolini-Boyer deliver thank you gifts to staff who helped with the Orchesis Show. Top middle: Eduardo Cortez helps sophomore Sofia Bruno in world language teacher Enza Spilotro's Italian class. Top right: Melisa Castro "takes over" for student supervisor Antonio Gonzalez. Bottom left: Peyton Suarez assists dean Curtis Tate. Bottom middle: Vanessa Juarez fills in for counselor Shane Cole. Bottom right: Axel Valbuena, Eduardo Huerta and Ricardo Flores "take over" in the Library Media Center.
On May 2, more than 90 seniors "took over" for teachers, administrators, clerical staff, the guidance office and the deans office during Addison Trail's eighth annual Senior Takeover Day. All seniors were eligible to participate, as long as they were in good academic standing and received permission from the respective staff member. The seniors coordinated meetings, ran errands, helped teach classes and more.
PBIS barbecue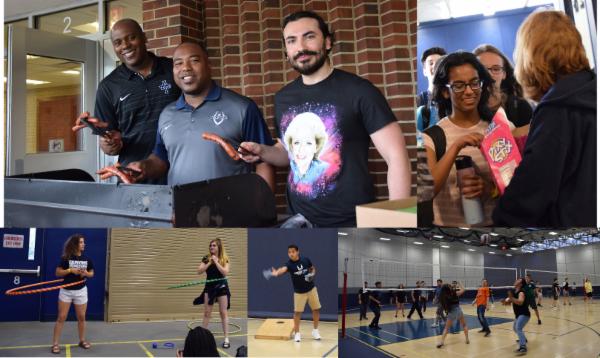 Top left: (From left) Addison Trail teacher aide Cory Little, special education teacher Kendrick Thomas and science teacher Daniel Fernandez cook hotdogs during the school's annual end-of-year Positive Behavioral Interventions and Supports (PBIS) barbecue on May 16. Top right: Addison Trail sophomore Christine Thomas enjoys a treat during the event. Bottom left: Addison Trail sophomores Isabel Aramburu (left) and Amie Lear Hula-Hoop during the barbecue. Bottom middle: Addison Trail junior Jonathan Ramos plays a game of bags. Bottom right: Students compete in a game of volleyball.
On May 16, the Addison Trail Positive Behavioral Interventions and Supports (PBIS) team hosted its annual end-of-year barbecue. The PBIS program was implemented in fall 2007 to teach students expected behaviors, rules and what it means to be a Blazer. The goal of the program is to develop a positive school climate through creating common language and standards. The barbecue is a time to celebrate improved behaviors at Addison Trail and is an opportunity to communicate behavioral data for the year not only to the staff, but to the students as well. Throughout the school year, the program recognizes acts of "Blazer Pride" with a personalized card and a cookie. Staff, students and community members volunteered during the barbecue, and administrators took to the grill to cook up a tasty lunch for participants.