Addison Trail celebrates the graduation of its preschool class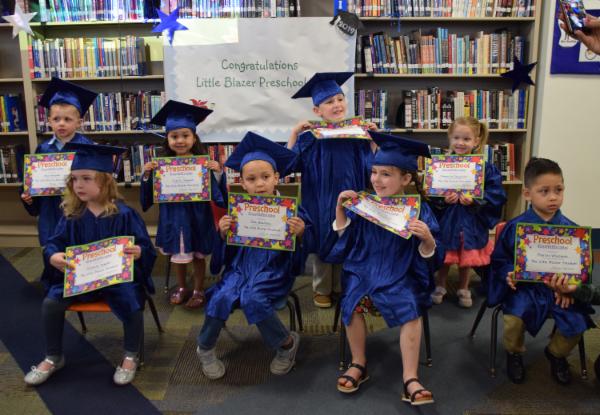 Members of the 2019 Addison Trail Little Blazers Preschool class hold up their certificates during their graduation ceremony on May 9.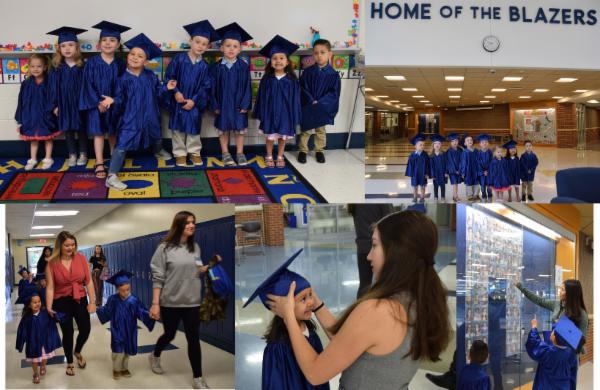 Top left and right: Pictured are the students who graduated from Addison Trail's Little Blazers Preschool class on May 9. Bottom left: Addison Trail senior Emily Muraglia (second from left) and junior Veronika Sypita (right) walk preschool students Camila Jimenez and Dylan Decker to their graduation. Bottom middle: Addison Trail junior Quintila Villalobos helps preschooler Camila Jimenez with her graduation cap. Bottom right: Addison Trail junior Maria Villegas looks at Addison Trail's Legacy Wall with preschooler Josh DeLaCruz, which showcases seniors at the school.
On May 9, parents/guardians and Addison Trail students and staff members gathered to celebrate the graduation of students in the school's Little Blazers Preschool program.
The preschoolers wore graduation caps and gowns and received a certificate for their hard work. After the ceremony, they enjoyed treats with their parents/guardians and the Addison Trail students who taught them during second semester.
The nine children in the class are from the surrounding communities. They spent two mornings a week with the Little Blazers Preschool class, during which 23 Addison Trail students conducted lessons in math, science, art, music, language arts and large/small muscle.
For more information about the program, contact Lija Marzec at 630-458-4213 or lmarzec@dupage88.net.