Addison Trail students share experiences of joining Youth and Government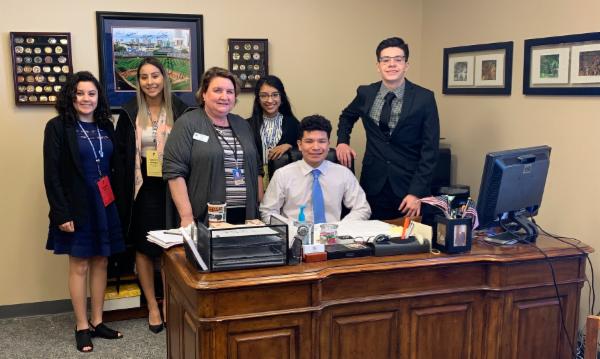 State Rep. Kathleen Willis (third from left) visits with Addison Trail students who are members of the school's Youth and Government group during a recent field trip to Springfield. Those students are (from left) Sienna Alicea, Jocelyn Gallegos, Jackelyn Tellez, Christopher Trujillo and Patrick Soto, who are all seniors.
Five Addison Trail students recently experienced various aspects of the state government in action through participating in the school's Youth and Government.
Youth and Government is a simulation of the Illinois General Assembly, where participants form bill groups, write proposed legislation, run for elected office and convince students from other schools to pass their proposals. The activity culminates with sessions in Springfield, where students use the chambers of the Illinois Senate and House of Representatives.
Seniors Jocelyn Gallegos, Christopher Trujillo, Jackelyn Tellez, Patrick Soto and Sienna Alicea traveled to Springfield from March 15 to 17. Alicea served as a lobbyist and represented the Illinois Environmental Council. The other students served as bailiffs on the People v Wilson case. To prepare for their presentations and trip, they participated in two pre-legislation sessions.
While in Springfield, they also met with State Rep. Kathleen Willis (77th District) and State Sen. Tom Cullerton (23rd District). Both legislators have a special connection to District 88. Cullerton's three children are students at Willowbrook, and Willis' four children graduated from Addison Trail. Willis also is an alumna of Addison Trail (class of 1980). Addison Trail social studies teacher LeVonne Cescolini-Boyer, who sponsors Youth and Government, had Willis' children in class. The group visited The Lincoln Tomb, the Illinois Supreme Court, the Illinois Attorney General Office and the Illinois State Capitol as well.
"In Youth and Government, you will gain a new appreciation for all of the branches of government," Alicea said. "As a lobbyist, I was able to see how difficult it is to get a law passed and how long it takes to do so. Although, Youth and Government isn't just about politics – it is about the lessons you learn, the friendships you build and the confidence you gain from it. It really encourages us to take a broader look at everything and not look at everything so narrowly, because there are always different ways to accomplish the same goal with the help of compromise."
Tellez agreed and said she encourages students to join the club.
"I recommend starting with Youth and Government early, so you can learn more – you never know when a passion might turn into a career," Tellez said. "A lot of things are changing with our generation such as technology, and being involved with Youth and Government helps you understand those changes and educates you on current topics."
For more information about Youth and Government, contact Cescolini-Boyer at lcescolini@dupage88.net or 630-458-4371.