Addison Trail names March recipient of 88's Best recognition
This video may take up to a minute to start after click the play button depending on your connection speed and browser.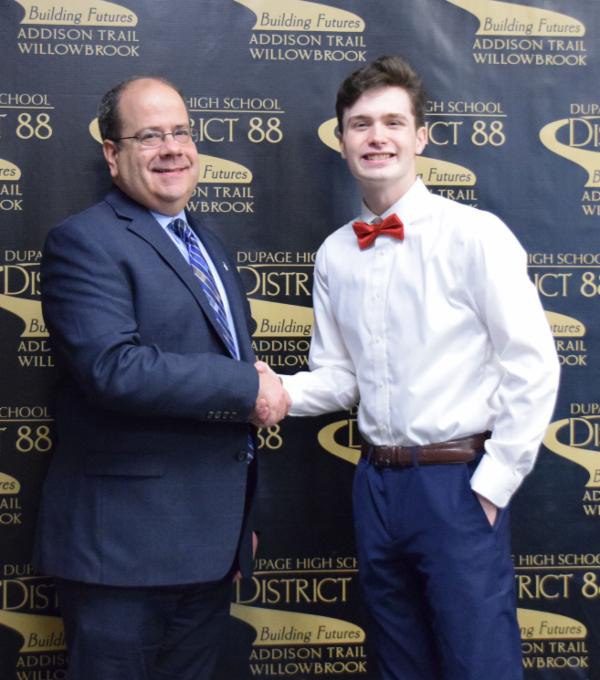 Pictured is Addison Trail senior Connor White (right), who has been named as the school's March recipient of 88's Best recognition. He's pictured with Addison Trail Principal Michael Bolden.
Connor White has been named as Addison Trail's March recipient of 88's Best recognition for his outstanding work in the performing arts/electives. White, a senior, was recognized during the March 18 District 88 Board of Education meeting. To watch White's 88's Best presentation, click the video above.
For the past four years, the staff, students and community of Addison Trail have had the distinct pleasure of witnessing the famous characters of Danny Zuko, Don Lockwood, Jack Kelly and various leads from the works of Shakespeare come to life on stage through White's performances in a way that transports the audience to the places and experiences those characters encounter. White has a gift of showing the audience different perspectives through the characters he portrays, and he has raised the bar for Addison Trail Theatre and motivates his peers to do the same.
When White first came to Addison Trail, he had very little experience in theatre, and his only singing background was with popular songs on the radio. During his freshman year, White joined theatre and wondered how he was going to find his niche in this program he knew he wanted to be a part of and make a difference. White has participated in 13 shows and all of the major productions at Addison Trail and has been the lead in many of them. He was inducted as a Thespian his freshman year and is a leader, mentor and model for many of the other students in theatre. As White began to hone his acting and singing abilities, Addison Trail English teacher and Theatre Director Anna McSweeney encouraged him to audition for the All-State show. He snagged a part in the 2018 Illinois High School Theatre Festival (IHSTF) All-State production of "Big Fish," which was then chosen to perform during the International Thespian Festival last June in Nebraska. White earned a part in this year's IHSTF All-State production of "In the Heights" as well.
"White is by far one of the most talented students I have ever worked with – not only at Addison Trail, but within the state of Illinois," McSweeney said. "His achievements speak for themselves, but I would like to speak to his character. White is the hardest-working kid I know. His hunger for learning about theatre, acting, film, music, etc. astounds me, and I wish more students could have his dedication to education. White has a maturity that several teachers besides myself have noticed. He is so aware of his own limitations and abilities. He always takes responsibility for his actions and conducts himself with pure professionalism. He has taken everything I can teach him, and I feel like we've traded places; I am now learning from him. I am so excited to see what he does in the future, and I am sure we will hear from Connor White in the future!"
Addison Trail physical education teacher Sheri D'Ambrose agreed.
"White is one of the kindest and most talented Blazers I have seen in my 31 years here!" D'Ambrose said.
LeVonne Cescolini-Boyer, Addison Trail social studies teacher, Orchesis Sponsor and Musical Choreographer, said White's enthusiasm is what makes him stand out.
"White is an amazing student, who I have had the pleasure of choreographing for over the last three years!" Cescolini-Boyer said. "His positive attitude is contagious, and he will be missed on the ATHS stage in the years to come! I see a very bright future for White on Broadway someday soon!"
White manages a rigorous course load on top of his commitment to theatre, and he also is a part of the ATtribute yearbook staff.
"There is no one like White," said Jessica Clark, Addison Trail English teacher and yearbook sponsor. "He has been a major creative contributor to our yearbook for the last two years. He uses his unassailable wit and positive energy to motivate others. One of his most reputable qualities is his ability to hold himself accountable if he makes a mistake. There are not too many teenagers who reflect on their actions as much as White does. He is a valuable member of our yearbook squad and is worthy of any honor that comes his way in the field of performing arts and electives. I am very proud of him!"
White plans to attend Chicago College of Performing Arts at Roosevelt University.
• District 88 values the hard work and achievements of students and wants to make sure students are honored and recognized for their accomplishments. The District 88 Board of Education and administration created the 88's Best award to highlight students' success. That award recognizes nine Addison Trail and nine Willowbrook seniors each school year for reaching their personal best in various areas. Recipients are honored during a District 88 Board of Education meeting in one of the following areas: academics, highly improved performance, extracurricular activities, service work or performing arts/electives. They receive an 88's Best glass sculpture and a certificate to a local restaurant.