Addison Trail hosts annual Physical Education Week
From March 11 to 15, Addison Trail hosted its annual Physical Education (PE) Week, where students and staff participate in wellness-related activities to encourage a healthy lifestyle and to enhance school spirit. Below is a recap of the week.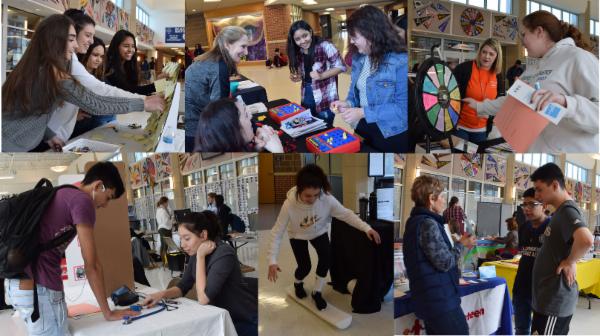 Top left: (From left) Addison Trail freshman Marissa Zucchero, sophomore Natalya Trejo, freshman Antonella Simone-West and freshman Atziri Valbuena participate in an activity hosted by AMITA Behavioral Health during a Health and Wellness Fair on March 11 at Addison Trail. Top middle: Addison Trail sophomore Shreya Bhati (center) and senior Nayely Valdez (right) play a wellness-related game hosted by ThinkFirst with Northwestern Medicine. Top right: Addison Trail freshman Analise D'Alessandro (right) plays a game with Meghann Post from the YWCA. Bottom left: Pictured is the Medical Careers booth. Bottom middle: Addison Trail sophomore Natalya Trejo tries her hand at physical therapy with NovaCare Rehabilitation. Bottom right: Marlene Alcorn with Al-Anon and Alateen speaks with Addison Trail students.
March 11: Addison Trail hosted a Health and Wellness Fair, where more than 35 local businesses and organizations shared information with students about a variety of health and wellness topics.
Top row: (From left) Addison Trail sophomore Samantha Calzado, senior Javier Venegas and senior Madalyn Rumps donate blood during a blood drive on March 14 at the school. Bottom: (From left) seniors Kayla Roszkiewicz, Baylee Merrill, Clarice Ruiz and Montserrat Noriega enjoy a snack after donating blood and help with the event.
March 14: Addison Trail hosted a blood drive for Vitalant. Nearly 150 Addison Trail students, staff and community members participated in the event, which collected 101 units of blood. Each unit of blood collected supports three lives, which means this event could help save 303 lives. Students, staff and community members are welcome to continue giving toward Addison Trail's total. Call 630-530-3989 for details. For participating in blood drives, Vitalant presents District 88 with a check that goes toward scholarships for students at Addison Trail and Willowbrook.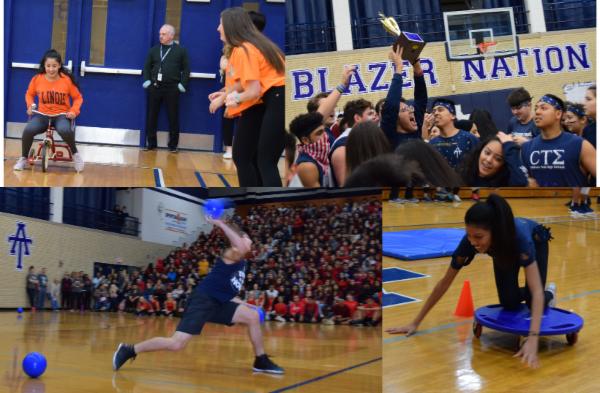 March 15: Addison Trail hosted its annual Superstars Assembly (the culminating event of PE Week), where classes go head to head in a variety of competitions. The seniors won the event, the freshmen finished in 2nd place, the staff/faculty finished in 3rd place, the juniors finished in 4th place and the sophomores finished in 5th place. See more photos from the assembly below.