Addison Trail student-athletes represent Blazer Pride during winter sports season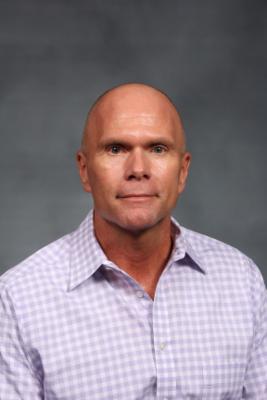 Pictured is Addison Trail Athletic Director Matt Thompson.
It was a tremendous winter sports season at Addison Trail, and our student-athletes certainly continued the Blazer Pride that is Addison Trail Athletics!
Below is a recap with highlights.
CHEERLEADING
The Varsity Cheerleading Team had an amazing season. The Coed Varsity Team came in the top three at all the invites.
3rd place at Illinois Cheerleading Coaches Association (ICCA) Championship
1st place in the Coed Stunt Group category at ICCA Championship
3rd place in Conference
1st place at Oswego East Invite
1st place at Pontiac Invite
2nd place at Wilmington Invite
BOYS BASKETBALL
The Boys Basketball Team finished with an overall record of 14-16. This marked the seventh-straight year the team reached double-digit victories. The season started strong, with the boys capturing the Elmwood Park Tournament, and they finished with wins in four of their last six games. Senior JT Daniels was named to the All-Conference Team and to the All-Tournament Team at the Glenbard West Holiday Classic. Seven team members were named to the All-Academic Team. Senior Sheldon Allgood was named "Most Valuable," and senior K'Vhon Pounds was named Most Improved.
GIRLS BASKETBALL
The Girls Basketball Team finished the season with a record of 9-17 overall and 1-12 in Conference. The girls had a buzzer-beater against IC Catholic Prep toward the end of the season. They also had a good holiday tournament at Lisle, where they went 2-2 with a 2-point loss and a 1-point loss. Senior Serena Gilliam earned All-Conference honors, as she averaged 9.3 points a game and 5.6 rebounds a game. Freshman Quiana Birmingham averaged 7.2 points a game. Six seniors were named to the All-Academic Team as well.
BOWLING
The Girls Bowling Team had a very successful season. Varsity had a 3-7 record overall and a 2-6 Conference record. What makes that Conference record impressive is the West Suburban Conference Gold Division had three teams qualify for the State tournament, which shows the strength of the division. The varsity level had two bowlers qualify for the Sectional tournament – junior Kasey Fiermuga and freshman Sarah Soucie. Seniors Yvette Beltran, Clare O'Connell, Lizbeth Cruz, Kelly Montes De Oca and Claudia Herrera really showed their leadership and guidance.
GIRLS GYMNASTICS
The Girls Gymnastics Team started the season with a score of 116. Team members are freshman Delaney Gregory, sophomore Francesca Scarabaggio, sophomore Alexis Theodore and senior Madalyn Rumps. Rumps continued to be an integral scorer for the Varsity Team. She finished All-Conference in the All-Around, a feat she had not yet completed. The girls jumped to a near 125 score. That jump of nearly 10 points helped them earn 3rd place in Conference and helped Scarabaggio and Gregory win All-Conference awards.
BOYS SWIMMING
The Addison Trail-Willowbrook Boys Swimming Team had a great season, with a 3rd-place finish overall in Conference. They missed 2nd place by six points at Conference. Each team member dropped major times throughout the season, which led to the boys finishing in 2nd place out of 12 teams at the Shepard Invite. Their hard work paid off at the end of the season during the Conference meet, as seven out of nine student-athletes earned All-Conference honors. All-Conference swimmers from Addison Trail are senior Evan Zimmerman, junior Marco Chaidez and freshman Michal Niemirski. Zimmerman also served as co-captain and was named to the All-Academic Team as well.
WRESTLING
The Wrestling Team had a great 2018-19 season. The team won the Conference title by going undefeated and had an overall season record of 19-4. The team had nine Sectional qualifiers, eight All-Conference honorees (senior Guillermo Juarez, junior Adam Skrzypek, sophomore John Asiuras, sophomore Jake Matthews, senior Brian Reyes, sophomore Eric Reed, junior Xavier Sierra and junior Nicholas Skamra) and two State qualifiers (Juarez and Matthews).
* Addison Trail is part of the West Suburban Conference Gold Division.
We look forward to more athletic successes during the spring season. Go, Blazers!