Addison Trail names February recipient of 88's Best recognition
This video may take up to a minute to start after click the play button depending on your connection speed and browser.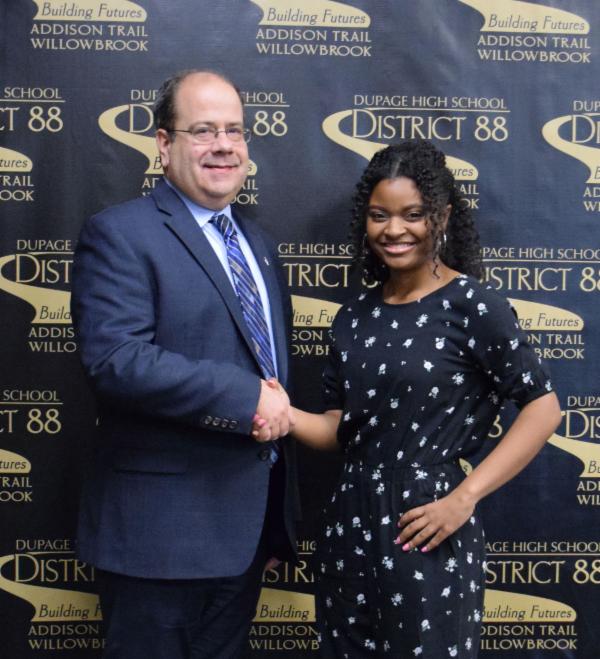 Pictured is Addison Trail senior Danielle Harris, who has been named as the school's February recipient of 88's Best recognition. She's pictured with Addison Trail Principal Michael Bolden.
Danielle Harris has been named as Addison Trail's February recipient of 88's Best recognition for her outstanding service work. Harris, a senior, was recognized during the Feb. 25 District 88 Board of Education meeting. To watch Harris' 88's Best presentation, click the video above.
The act of service is one that takes commitment, purpose and responsibility to follow through not only with the act at hand, but to see the bigger picture to help people have a better life. Harris epitomizes what it means to care for others and provide opportunities for them to change their world. Harris began participating in Key Club during her freshman year. She jumped in with both feet and is now President of the organization. She has led a number of projects and activities through the club, but she particularly enjoys Ronald McDonald House, Feed My Starving Children and Paws for a Cause (an animal-friendly adoption fair designed and led by Addison Trail students).
Harris exhibits a quality that is sometimes difficult for teenagers to grasp – empathy. She knows what it's like to be stuck in a situation that seemingly has no way out. But because of what she has experienced in life, and because of her perseverance and persistence, one of her personal goals is for people to understand they have the ability to break boundaries, no matter what they are born into. Harris serves as a Youth Equity Stewardship (YES!) series Ambassador at Addison Trail and is a role model for her classmates. The YES! program is led by Benjie Howard and Wade Antonio-Colwell, and the goal is to prepare students to recognize and learn from the diversity around them (read more at https://www.dupage88.net/site/page/9713).
In the classroom, Harris is at the top of her class and has taken nine Honors courses and 12 Advanced Placement (AP)/college-level courses, earning top marks in all of them.
"I have had Harris in AP U.S. History as a junior and currently have her in AP U.S. Government," said Brendan Lyons, Addison Trail Social Studies Department Head. "She epitomizes what all teachers hope for in their students; she is thoughtful, polite and engaged on a daily basis. You can really tell her academics are a priority, and she takes great pride in them."
Addison Trail English Department Head Amy Ferraro agreed.
"When I reflect on Harris' work in my class, I immediately think of her response to the summer reading I assigned my students," Ferraro said. "All AP and Honors students are required to complete summer reading as preparation for their upcoming English class. I assign a nonfiction piece called 'Mississippi' by Anthony Walton each year. As we sat in class the first week discussing our reactions to the book, most of the students complained that they found it irrelevant and boring and difficult to read. After sitting and listening to her peers grumble for quite a while, Harris slowly raised her hand. When I called on her, she thanked me for assigning the book, explained how significant it was for her to learn aspects of African-American history of which she had been previously unaware and shared openly the conversations she had with her family while she read. Without shaming her classmates, Harris very purposefully gave meaning and importance to the reading material and transitioned our conversation to one about why exactly we need to discuss the issues represented in the text. Her comments during discussion demonstrated her bravery and her engagement in her education. Harris approached each day of my class with the same maturity and determination. She was a prepared and thoughtful contributor to class discussions. Her arguments were supported by textual evidence, and she never hesitated to ask questions or challenge ideas."
Harris plans to attend University of Wisconsin–Madison and was recently offered a full ride. She is looking to major in psychology or genetics, with the hope of attending medical school. She credits Addison Trail science teacher Carolyn Erwin for pushing female students to pursue science and be part of breaking the glass ceiling to pursue cures for illness. Harris is extremely passionate about serving others, and this drives her dedication to become a doctor – so she can treat those less fortunate and help them break barriers of their own that might be standing in the way.
• District 88 values the hard work and achievements of students and wants to make sure students are honored and recognized for their accomplishments. The District 88 Board of Education and administration created the 88's Best award to highlight students' success. That award recognizes nine Addison Trail and nine Willowbrook seniors each school year for reaching their personal best in various areas. Recipients are honored during a District 88 Board of Education meeting in one of the following areas: academics, highly improved performance, extracurricular activities, service work or performing arts/electives. They receive an 88's Best glass sculpture and a certificate to a local restaurant.