Addison Trail names January recipient of 88's Best recognition
This video may take up to a minute to start after click the play button depending on your connection speed and browser.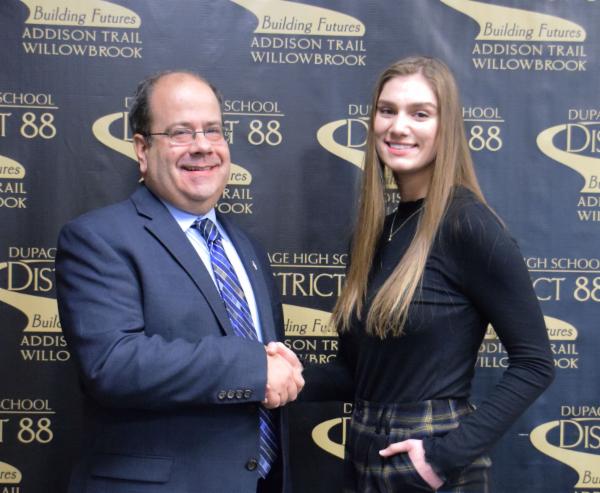 Pictured is Addison Trail senior Serena Gilliam, who has been named as the school's January recipient of 88's Best recognition. She's pictured with Addison Trail Principal Michael Bolden.
Serena Gilliam has been named as Addison Trail's January recipient of 88's Best recognition for her stellar involvement in extracurricular activities. Gilliam, a senior, was recognized during the Feb. 25 District 88 Board of Education meeting. To watch Gilliam's 88's Best presentation, click the video above.
For four years, Gilliam has played sports, participated in numerous clubs and also managed to be at the top of her class at Addison Trail. She is a great role model for her peers and has spent her high school career balancing all of it with a positive attitude and a contagious Blazer spirit that has had a lasting effect on her teachers, coaches, classmates and teammates. As a freshman, Gilliam jumped in with both feet. She played volleyball, basketball and softball and participated in a handful of clubs.
"Gilliam has been a starter on the Girls Varsity Basketball Team the past two years," said Rob Schader, Physical Education Department Head and Varsity Girls Basketball Coach. "She is constantly working at a high level to be the best she can be. She is highly competitive on and off the court, as her grades show. It has been an honor coaching Gilliam the past two years, and I could not think of another student-athlete more deserving of our District 88's Best award for extracurricular participation."
In addition to sports, Gilliam has been deeply involved with Key Club, National Honor Society, Lettermen's Club, Pay It Forward and, new to her this year, choir. Gilliam said she has absorbed numerous leadership skills through Key Club, Pay It Forward and basketball and has enjoyed the challenge of motivating other students to get involved and take advantage of the opportunities offered at Addison Trail.
Gilliam also has exceled as a student. She is at the top of her class, earning all As in nine Honors courses and 11 Advanced Placement (AP)/college-level courses.
"I had the pleasure of having Gilliam for the last two years in AP U.S. History and AP Government," said Brendan Lyons, Addison Trail Social Studies Department Head. "She embodies all of the attributes a teacher hopes to have in a student in their class. She was dependable, organized and engaged on a daily basis."
Gilliam said her favorite classes include AP U.S. History and math, mainly because she enjoys a challenge. But she also formed a unique bond with Amy Ferraro, Addison Trail English Department Head.
"The absolute best thing about Gilliam is how open-minded she is!" Ferraro said. "I've loved watching her take risks each year by trying new things, including joining choir as a senior who has never had any music lessons. She is the personification of a lifelong learner. She's not afraid to reinvent herself and set out on a new adventure. Gilliam's approach to her education sets her apart from her peers. In a time when students tend to follow the principle of least effort, Gilliam stands out from the crowd. She approaches each learning opportunity with a calm, determined demeanor, and she is unflappable when confronted by challenging coursework."
Gilliam plans to attend University of Wisconsin–Madison and major in business. She is extremely interested in bringing her leadership skills to the business world and continuing the collaboration and teamwork she has learned as a high school student.
• District 88 values the hard work and achievements of students and wants to make sure students are honored and recognized for their accomplishments. The District 88 Board of Education and administration created the 88's Best award to highlight students' success. That award recognizes nine Addison Trail and nine Willowbrook seniors each school year for reaching their personal best in various areas. Recipients are honored during a District 88 Board of Education meeting in one of the following areas: academics, highly improved performance, extracurricular activities, service work or performing arts/electives. They receive an 88's Best glass sculpture and a certificate to a local restaurant.