Addison Trail student-athletes represent Blazer Pride during fall sports season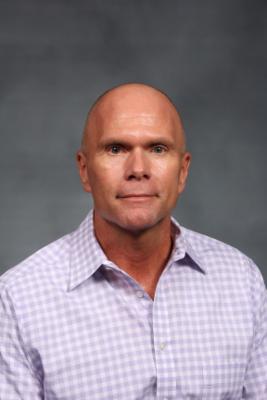 Pictured is Addison Trail Athletic Director Matt Thompson.
It was a tremendous fall sports season at Addison Trail, and our student-athletes certainly continued the Blazer Pride that is Addison Trail Athletics!
Below is a recap with highlights.
BOYS CROSS-COUNTRY
The team had a great end to the season. Senior Randy Almarales was named to the All-Conference Team, and sophomore Dylan Moran took 2nd place overall. The team had great results at the Lake Park Regional and ended up with two sectional qualifiers (Almarales and Moran).
GIRLS CROSS-COUNTRY
The girls had a strong season and earned the team's best Conference record in 18 years (4-1). Sophomore Viviana Sanfilippo started her season strong and earned a plaque at the Fenton Invitational. During the team's first Conference meet of the season against Morton and Proviso East, Sanfilippo, freshman Madelyn Ford and senior Lizbeth Balbuena finished 1st, 2nd and 3rd, respectively. Sanfilippo placed 1st again during the second Conference meet of the season against Willowbrook and Leyden. And the trio again took the top three spots at the team's final dual-Conference meet against Hinsdale South. Sanfilippo also earned an award with her 20th-place finish at the St. Charles Northstar Invitational. At the Conference race, she placed 10th at the Varsity level and earned All-Conference honors. Ford also earned All-Conference honors at the Freshmen level, with a 3rd-place finish. Twelve runners ran a personal best at Conference. At the Regional race, Sanfilippo placed 15th overall and qualified for the Sectional race. Five of the team's seven varsity runners had a personal best at the Regional race, closing out their season on a high note. Sanfilippo ran competitively at the Sectional race and narrowly missed advancing to the Illinois High School Association (IHSA) Girls Cross-Country State Meet. All 11 seniors were named to the All-Academic Team. Throughout the course of the season, the girls had 49 career personal records.
FOOTBALL
The Blazer Football Team finished the 2018 campaign at 1-8 on the season and 1-5 in Conference. The season was filled with ups and downs, but the team continued to compete each week. Impressive performances and a late victory highlighted the season. Ten seniors were named to the All-Academic Team (Kevin Catano, JT Daniels, Nicholas Daudelin, Vincent Daudelin, Lucas Hernandez, Joshua Meglio, Pablo Mosely, Nicholas Nasti, K'Vhon Pounds and Alex Sakleh). Three players earned All-Conference honors (Anthony Carlson, JT Daniels and Nicholas Daudelin).
BOYS GOLF
The Boys Golf Team finished its season with senior Blaise Morris earning 2nd place in Conference. Morris, along with junior James Cerven, then advanced to Sectionals. Cerven will be back at it this spring and summer to get ready for his senior year. Morris will attend Holy Cross College and will be a member of the Men's Golf Team.
GIRLS GOLF
The Girls Golf Team had its largest team in more than five years, with 11 seniors. Although the team was large, many members were new to golf. As the year progressed, the girls got more comfortable with the game and started to see improvements. The team had a lot of fun and learned a lifelong skill.
BOYS SOCCER
The Boys Varsity Soccer Team began the year 3-4 and then went on to win the next 14 out of 16 games to end the season. This resulted in a record of 17-6 on the season, while playing eight top-25 teams in the state. The Blazers finished second out of eight teams in the Joe Novy Tournament and went 3-1 in the PepsiCo Tournament. The team also went 5-1 in Conference for a 2nd-place finish. The boys were awarded a sixth seed out of 19 teams at Sectionals. In the Regional Championship, Addison Trail beat rival York 3-1 to win its second Regional Championship in three years! At Sectionals, the Blazers lost 2-1 in double overtime to Benet Academy. The team had a great season and had several players recognized. All-Conference players are senior Melvin Mora, senior Eduardo Huerta, senior Samuel Sandoval, senior Julio Acosta, junior Martin Murillo and sophomore Anthony Hernandez. Mora and Huerta also were awarded All-Sectional and All-Daily Herald First Team honors. The team had a record number of students named to the All-Academic Team, with 10 players receiving that honor.
ADDISON TRAIL-WILLOWBROOK GIRLS SWIMMING TEAM
The team finished in 2nd place at Conference in the Freshmen/Sophomore and Varsity levels and had a stellar invite. This resulted in a season where the team in total dropped more than 300 seconds and had season best times in nearly all races at championship meets. The following seniors were named to the All-Academic Team: Gabriella Panegasser (Willowbrook), Melea Banaszak (Willowbrook), Elissa Haake (Willowbrook), Sabrina Edwards (Willowbrook), Anna Christiansen (Willowbrook), Margaret Kwak (Willowbrook), Natalie Obrzut, McKenna Gayon, Kaitlyn Fox (Willowbrook) and Cassidy Paul (Willowbrook). All-Conference honors went to: Senior Anna Christiansen (Willowbrook), freshman Carly Zaprzal, sophomore Nancy Obrzut, senior Natalie Obrzut, senior Elissa Haake (Willowbrook), freshman Delaney Gayon, freshman Suzzane Ramirez and sophomore Nell Pawlowski. All-Sectional honors went to: Senior Elissa Haake (Willowbrook), senior Natalie Obrzut, sophomore Nancy Obrzut and senior Anna Christiansen (Willowbrook).
GIRLS TENNIS
The Varsity Girls Tennis Team was the youngest it has been in the past 13 years, with three freshmen and two sophomores making the team. This year's highlights include senior Nicole Porter receiving 2nd place at the Willowbrook Invite at the position of 2nd singles and the 1st doubles team of juniors Stephanie Avila and Quintila Villalobos receiving 4th place at Conference, just a few games short of receiving 3rd place. With only four members graduating and five members being underclassmen, the team is looking forward to building off of the accomplishments of this season to an even more successful future!
GIRLS VOLLEYBALL
The Girls Volleyball Team battled against a tough schedule and finished with an overall record of 17-19. Of the 16 teams remaining in the sweet 16 in the 4A IHSA State Tournament, the Blazers competed against five of those teams and beat two of them in the regular season. The Blazers overcame significant height mismatches, with wins against stellar teams such as Fenwick, Wheaton Warrenville South and Whitney Young. Other team highlights include finishing 3rd in Conference, placing 5th at the Metea Valley/Oswego tournament and finishing 3rd at the Willowbook tournament. Senior outside hitter and four-year starter Nina Muell was once again selected as All-Conference. Junior outside hitter and three-year starter Jessica D'Ambrose also was selected as All-Conference and was recognized as a Daily Herald All-Area First Team selection. The Blazers look forward to a bright future in fall 2019, with the majority of starters returning.
* Addison Trail is part of the West Suburban Conference Gold Division.
We look forward to more athletic successes during the winter and spring seasons. Go, Blazers!