Two Addison Trail seniors selected for 2019 Illinois High School Theatre Festival All-State production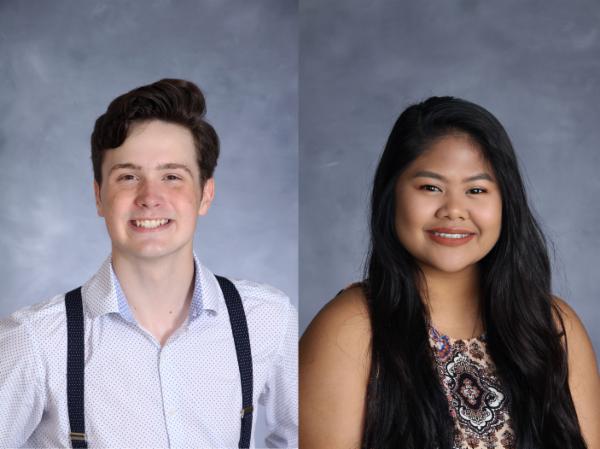 Pictured are Addison Trail seniors Connor White and Rosemarie Mercado, who have been selected as members of the Cast/Ensemble for the 2019 Illinois High School Theatre Festival (IHSTF) All-State production of "In the Heights."
Addison Trail seniors Connor White and Rosemarie Mercado have been selected to participate in the 2019 Illinois High School Theatre Festival (IHSTF) All-State production of "In the Heights."
Performances will take place from Jan. 10 to 12, 2019, at University of Illinois at Urbana-Champaign. The event is for participants of the IHSTF and is not open to the public. According to a press release from the IHSTF, "With music and lyrics by Lin-Manuel Miranda and book by Quiara Alegría Hudes, 'In the Heights' tells the story of a vibrant community in New York's Washington Heights neighborhood – a place where the coffee from the corner bodega is light and sweet, the windows are always open and the breeze carries the rhythm of three generations of music. (The show) will celebrate the festival theme 'Take Flight,' as it features a community on the brink of change, full of hopes, dreams and pressures, where the biggest struggle can be deciding which traditions you take with you, and which ones you leave behind."
The IHSTF All-State cast, crew and pit orchestra are comprised of top student performers, technicians and musicians from throughout Illinois. More than 350 students auditioned for this year's production, and 90 were selected from 49 high schools. White and Mercado were selected as members of the Cast/Ensemble.
About the Illinois High School Theatre Festival
Now in its 44th consecutive year, the Illinois High School Theatre Festival (produced by the Illinois Theatre Association) is the largest and oldest noncompetitive high school theatre festival in the U.S. The three-day festival takes place every year in early January and switches locations between University of Illinois at Urbana-Champaign and Illinois State University. More than 4,500 students, teachers, university representatives, exhibitors and volunteers come together to put on more than 25 high school productions and more than 150 workshops. This year's festival is themed "Take Flight." For more information, go to www.illinoistheatrefest.org.