Addison Trail names November recipient of 88's Best recognition
This video may take up to a minute to start after click the play button depending on your connection speed and browser.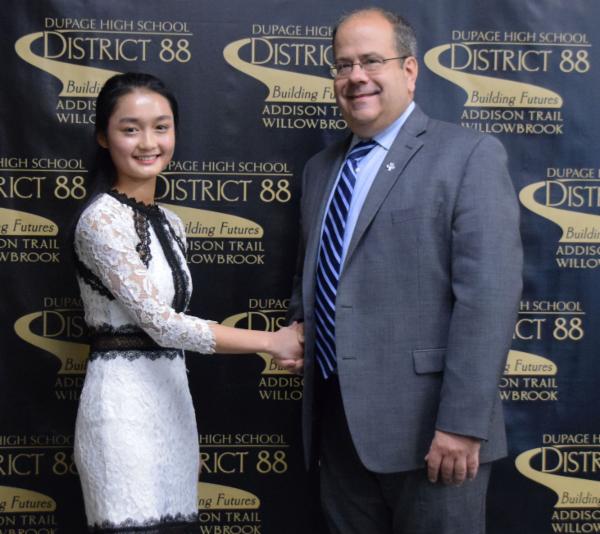 Pictured is Addison Trail senior Wenyuan Zhang, who has been named as the school's November recipient of 88's Best recognition. She was honored during the Nov. 12 District 88 Board of Education meeting and is pictured with Addison Trail Principal Michael Bolden.
Wenyuan Zhang has been named as Addison Trail's November recipient of 88's Best recognition for her highly improved performance. Zhang, a senior, was recognized during the Nov. 12 District 88 Board of Education meeting. To watch Zhang's 88's Best presentation, click the video above.
Zhang came to the U.S. five years ago knowing no English and was thrown into an environment different from the one she knew. Today, she is taking the most difficult and challenging Advanced Placement (AP)/college-level courses at Addison Trail and is getting As in those classes.
Zhang emigrated from China with her family of six when she was in seventh grade. She has two brothers and two sisters, all of whom have gone through (or currently attend) Addison Trail. Zhang quickly began to learn English with her siblings and worked extremely hard to acclimate to her new surroundings. The cultural differences took some getting used to, but Zhang started to thrive, particularly in her math classes. Zhang started in English as a Second Language (ESL) III and Sheltered coursework her freshman year and part of her sophomore year, but she began to excel into higher-level classes with no language support very quickly.
"I have known Zhang for two years as my student in AP Calculus BC and Honors Calculus 3," said Addison Trail math teacher Natalie Stach Wilen. "She also has been an integral part of our Math Team for years. This is the same shy, quiet, brilliant girl who was placed in Sheltered Algebra when she and her siblings enrolled at Addison Trail. Because her teachers saw her talent, in just a few days, she was moved out of Sheltered Algebra and into Sheltered Geometry and Advanced Algebra, and she is now in the highest math class we offer!"
Addison Trail science teacher Kira Bonk agreed Zhang's work ethic stands out.
"I can't express how proud I am of Zhang!" Bonk said. "She is a rock star! In the best ways possible, Zhang is unlike any other student I have taught. To advance as quickly as possible, Zhang poured over a dictionary after school, learning every word from her notes and class materials. It takes someone with an extremely strong character and sense of determination to make as much progress in as little time as she did. To be honest, I know few adults with the focus and humility of this young woman. I am so happy I had the opportunity to teach her AP Physics 1 and 2, and I know she will be highly successful after she leaves Addison Trail."
Not only does Zhang excel in the classroom, but she also has taken full advantage of the extracurricular programs offered at Addison Trail. Her best memories have come from her participation on the Girls Badminton Team, the Girls Tennis Team, Science Olympiad, Key Club, National Honor Society, Business Professionals of America (BPA), Math Team, International Club, STEM Camp and a variety of community service projects and organizations. Zhang is on the Distinction Honor Roll, has earned State Seal of Biliteracy recognition and has assumed a few leadership positions this year, including secretary for Science Club and Treasurer for BPA.
"I know Zhang is extremely dedicated, dependable and hardworking," said Aileen Sullivan, Addison Trail science teacher and Science Olympiad coach. "Last year, she was working on an event where she had to build a tower structure prior to the actual competition. For days, Zhang worked on perfecting the structure. I found out the day before the competition she was unable to attend the event. Nevertheless, she met the team the morning of the competition to provide her teammates with a finished structure that could be taken to the competition and tested. Her actions are excellent representations of selfless dedication, hard work and teamwork. I am proud to have Zhang as a member of the Science Olympiad Team."
In the future, Zhang intends to attend college, and her top choices are Purdue University and University of Illinois at Urbana-Champaign. She has applied to six colleges so far and continues to fill out more applications. She wants to continue the work about which she is passionate and plans to study computer science and engineering.
District 88 values the hard work and achievements of students and wants to make sure students are honored and recognized for their accomplishments. The District 88 Board of Education and administration created the 88's Best award to highlight students' success. That award recognizes nine Addison Trail and nine Willowbrook seniors each school year for reaching their personal best in various areas. Recipients are honored during a District 88 Board of Education meeting in one of the following areas: academics, highly improved performance, extracurricular activities, service work or performing arts/electives. They receive an 88's Best glass sculpture and a certificate to a local restaurant.