Addison Trail hosts 'Go Pink' events in honor of Breast Cancer Awareness Month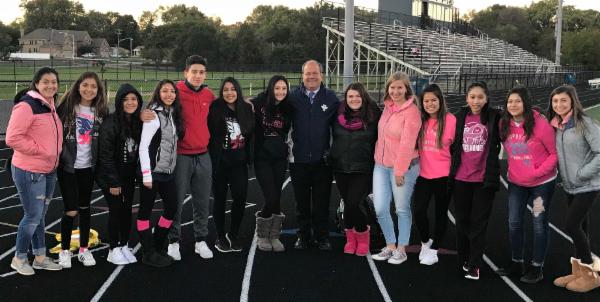 Addison Trail Principal Michael Bolden (center) participates in the school's annual Go Pink Walk with students and Addison Trail stakeholders on Oct. 15. That event was part of the school's Go Pink Week and efforts to raise money for breast cancer awareness and research.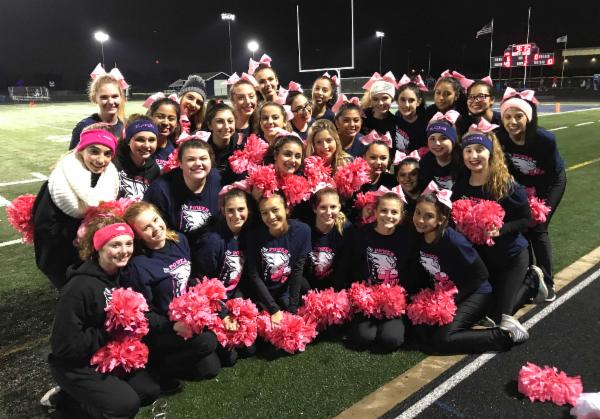 Addison Trail Orchesis Team members show their "pink" spirit during the school's annual Go Pink Walk on Oct. 15. That event was part of the school's Go Pink Week and efforts to raise money for breast cancer awareness and research.
By Addison Trail senior Gabriella Bonilla
Every Friday, Addison Trail students and staff wear Blazer blue, but the month of October always has a special color saved for AT's weekly school pride day: pink.
For the 11th year in a row, Addison Trail helped fight against breast cancer through hosting a Go Pink or Go Home Week. Every year, groups at Addison Trail help out at different events to fundraise for the cause.
This year, the Addison Trail Girls Volleyball Team kick started the event on Sept. 11 with its annual Go Pink match against Willowbrook, and the team took home the win.
"I think it's important our school does Go Pink Week, because it brings every Addison Trail student and teacher together to raise money for a great cause," said Sophia Hawkins, Addison Trail senior and volleyball player. "For the month of October, Orchesis students sell Go Pink shirts. All of the funds they make from selling these shirts goes to breast cancer research. Additionally, the Girls Volleyball Team hosts a Go Pink match every single season, whether it be at Willowbrook or Addison Trail. This year, we raised $1,000 by selling baked goods, pink ribbons and raffle tickets. All of these proceeds went to the American Cancer Society. Throughout the past few years, Addison Trail has raised a lot of money for breast cancer awareness – and hopefully one day, all of these efforts will find a cure for this disease."
The Orchesis Team sold Go Pink appeal to students, staff and families to help advertise and support the event. Throughout the month, Addison Trail rocked the shirts every Friday to show support.
Addison Trail's Go Pink Week officially started on Oct. 15 and began with students decorating the school from head to toe with pink. After school, a speaker came in and helped remind everyone why the school started doing Go Pink Week and why it's so important that as a school we come together to make a difference. A dinner was served after the speaker for a donation of $5.
For the past few years, a new tradition has taken place to help fundraise in a more active way – the Go Pink Walk. This year was the seventh annual walk, which took place on Oct. 15 as well. Walkers donated $1 to the cause and had fun walking around with friends and family for an hour. School groups such as L.A.D.I.E.S, Cheerleading, Orchesis, Marching Band, Blazettes and more helped out by hosting the walk and selling goodies to participants. The last event of the week was the Go Pink football game on Oct. 19.
Proceeds from the week will benefit the Nancy W. Knowles Cancer Center. Last year, Addison Trail donated $5,605.79 to the center. Funds also will go toward the 3rd Annual Breast Cancer Awareness Scholarship – In Memory of Elizabeth Clifford, which is a $1,000 student scholarship. Clifford was a special education teacher at Addison Trail and passed away in May 2016 after battling breast cancer for several years.