Addison Trail Guidance Department hosts annual Career Week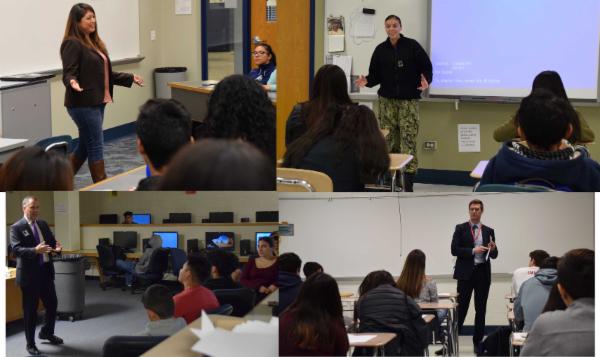 (From left to right, top row to bottom row) Shirley Soria-Gonzalez with McDonald's Corporation, Laura Quintero with the U.S. Navy, Mark Stelter with Itasca Bank & Trust Co. and Matthew A. Wood with Litico Law Group speak with Addison Trail students during the school's Career Week. That event took place from Oct. 22 to 26.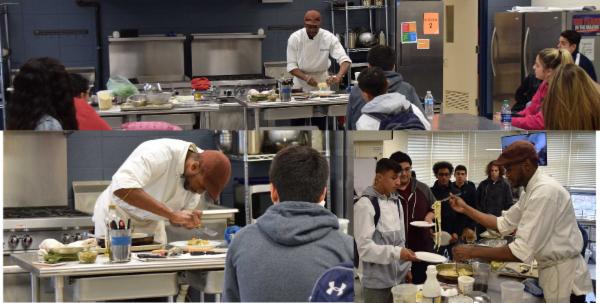 Travis Lewis with Robert Morris University provides Addison Trail students with a culinary demonstration during the school's Career Week. That event took place from Oct. 22 to 26.
As part of its commitment to provide opportunities that help prepare students for post-high school success, the Addison Trail Guidance Department hosted its annual Career Week from Oct. 22 to 26.
Throughout the week, business professionals shared information about their background, education and daily work life to give students insight into a variety of career fields. Teachers chose speakers who matched their subject area to assist students in connecting class instruction to real-world career possibilities. Guest presenters spoke with students about a variety of jobs and answered their questions. This is the fifth year Addison Trail has partnered with Junior Achievement of Chicago to offer representation from companies and organizations throughout the Chicago area.
Twenty-one speakers presented during Career Week, and 61 classes and 1,276 students participated. Career fields/professions that were showcased included health, welding, culinary, first responder (firefighter and police officer), legal counsel, banking, U.S. Navy and more.
For questions or more information about Career Week, contact Addison Trail Director of Guidance Kevin Redding at 630-628-3324 or kredding@dupage88.net.