Addison Trail names October recipient of 88's Best recognition
This video may take up to a minute to start after click the play button depending on your connection speed and browser.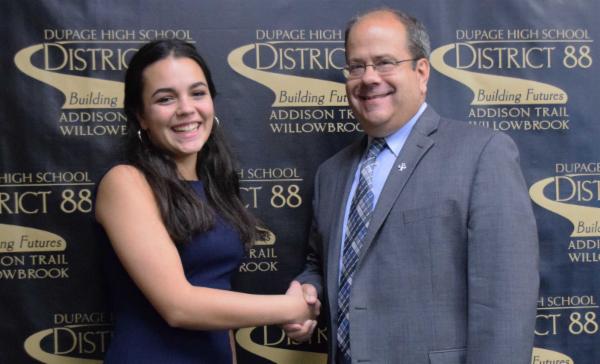 Pictured is Addison Trail senior Gianna Caruso, who has been named as the school's October recipient of 88's Best recognition. She's pictured with Addison Trail Principal Michael Bolden.
Gianna Caruso has been named as Addison Trail's October recipient of 88's Best recognition for her outstanding academic accomplishments. Caruso, a senior, was recognized during the Oct. 29 District 88 Board of Education meeting. To watch Caruso's 88's Best presentation, click the video above.
Since her freshman year, Caruso has challenged herself by taking the most rigorous courses available at Addison Trail. When she graduates, Caruso will have 10 Advanced Placement (AP)/college-level courses and 16 Honors courses on her transcript, currently with all As.
"Caruso's ability to be top-notch in both school and her activities is quite remarkable," said Dana Marine, Addison Trail Guidance Counselor. "In addition to being intelligent and involved, Caruso's maturity, drive and personality also are impressive. She takes initiative to get things done, is a self-starter and has clear goals. I can't wait to hear about all of her college options and her future accomplishments."
Not only does Caruso excel academically, she also has taken full advantage of the extracurricular options offered to her in the form of coursework and afterschool activities. Her two commitments that stand out are her participation in music and theatre. Caruso is a member of the Wind Ensemble, the highest level of band at Addison Trail, as well as the Jazz Band. She plays tenor saxophone, but also can play other saxophones, clarinet and piano. She recently was named as an Illinois Music Education Association (ILMEA) All-District Musician for the ILMEA All-District Band and is one of the drum majors at Addison Trail for the 2018-19 school year.
"I have known Caruso since she was in junior high, and I have always been impressed by her work ethic," said Mark Corey, Addison Trail Band Director and Music Department Head. "She is a very hard worker, who has earned every accolade she has received through determination, focus and drive. She also has great perspective, and when faced with adversity or outcomes that are not what she desired, the experience only further cements her drive to succeed and work harder. Caruso is one of those rare students who embraces fully what we are presenting in music and is a great example of who you can become when you have the courage to explore your potential."
Caruso also has shown her leadership in her other favorite activity, theatre. She has loved meeting all of the different people and learning from their experiences and has cherished the team aspect of theatre.
"Caruso is amazing," said Addison Trail Theatre Director and English teacher Anna McSweeney. "She has grown so much during the past three years and is very deserving of this award. I love that she has developed a sense of independence, and she often takes initiative. This summer, she and some other seniors ran our summer camp. She is extremely dependable; I know I can look to her as a model for underclassmen."
Outside of those activities, Caruso also is involved with Pay It Forward (an event for incoming students, which includes a Freshman Orientation component), Key Club, Tri-M (Modern Music Masters) Honor Society, National Honor Society and Student Council. She has had various leadership positions in those groups, including serving as President of Theatre Board, Co-President of National Honor Society, Historian of Tri-M Board and a CORE leader for Pay It Forward.
Caruso plans to apply to Purdue University, University of Wisconsin–Madison and The University of Iowa. Caruso isn't quite sure what her major will be yet, as she has a variety of interests, from engineering to psychology.
District 88 values the hard work and achievements of students and wants to make sure students are honored and recognized for their accomplishments. The District 88 Board of Education and administration created the 88's Best award to highlight students' success. That award recognizes nine Addison Trail and nine Willowbrook seniors each school year for reaching their personal best in various areas. Recipients are honored during a District 88 Board of Education meeting in one of the following areas: academics, highly improved performance, extracurricular activities, service work or performing arts/electives. They receive an 88's Best glass sculpture and a certificate to a local restaurant.