Addison Trail names September recipient of 88's Best recognition
This video may take up to a minute to start after click the play button depending on your connection speed and browser.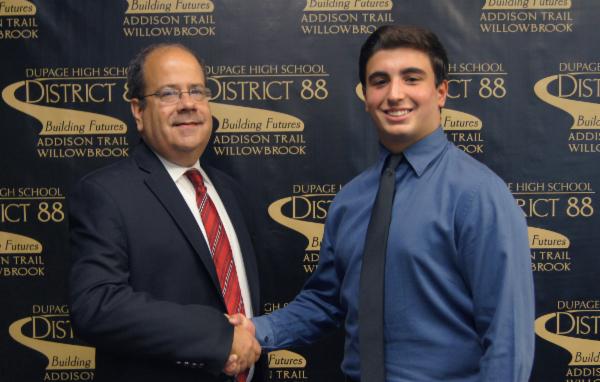 Pictured is Addison Trail senior Nicholas Nasti (right), who has been named as the school's September recipient of 88's Best recognition for his outstanding academic accomplishments. He's pictured with Addison Trail Principal Michael Bolden.
Nicholas Nasti has been named as Addison Trail's September recipient of 88's Best recognition for his outstanding academic accomplishments. Nasti, a senior, was recognized during the Sept. 24 District 88 Board of Education meeting. To watch Nasti's 88's Best presentation, click the video above.
Nasti is a straight-A student, who will have taken 12 Advanced Placement (AP)/college-level courses and nine honors courses when he graduates this spring.
"Nasti was an awesome student in my English 10 Honors class!" said Anna McSweeney, Addison Trail English teacher. "He was always prepared and always contributed positively. When I think of Nasti, I think about his perseverance; he kept trying and didn't give up easily. He was a pleasure to have in class!"
Amy Ferraro, Addison Trail English Department Head, agreed.
"Nasti is a determined and dedicated student," Ferraro said. "Despite his natural intellect and ability to submit high-quality work, Nasti always pushes himself to exceed expectations. He doesn't just accept feedback on his writing, he encourages it. For each essay he wrote, Nasti worked tirelessly through multiple drafts, asking for input on each one. He used the writing process as a learning opportunity and never settled for less than his best. Nasti enthusiastically participates in class discussions and is willing to take risks in class by offering answers when his classmates are too timid to speak up. He is a thoughtful, hardworking and kind young man, who serves as a tremendous role model for his peers."
Nasti credits his mom for helping him be a great student. He said he's extremely self-motivated and constantly pushes himself; he also has a competitive nature and works hard to do even better than his older brothers! Part of Nasti's motivation to be a good student comes from his participation in extracurricular activities. Nasti has been a member of the football team and the volleyball team all four years of his high school career; he is President of National Honor Society and Psychology Club; and he is a member of Student Council, Business Professionals of America (BPA) and Math Team.
"Nasti is a true teammate!" said Paul Parpet Jr., Addison Trail Football Team Head Coach. "He comes to practice every day with a great attitude and has a tremendous work ethic!"
Nasti plans to apply to University of Michigan, University of Notre Dame, Indiana University and Northwestern University. He plans to major in business and minor in behavioral psychology. He also is interested in possibly pursuing law school. This past summer, Nasti attended a pre-college program at Harvard College for an American Law course. He participated in debates based on Supreme Court cases, explored different judges' opinions on those cases and made connections with students from throughout the world.
District 88 values the hard work and achievements of students and wants to make sure students are honored and recognized for their accomplishments. The District 88 Board of Education and administration created the 88's Best award to highlight students' success. That award recognizes nine Addison Trail and nine Willowbrook students each school year for reaching their personal best in various areas. Recipients are honored during a District 88 Board of Education meeting in one of the following areas: academics, highly improved performance, extracurricular activities, service work or performing arts/electives. They receive an 88's Best glass sculpture and a certificate to a local restaurant.