Addison Trail hosts annual Open House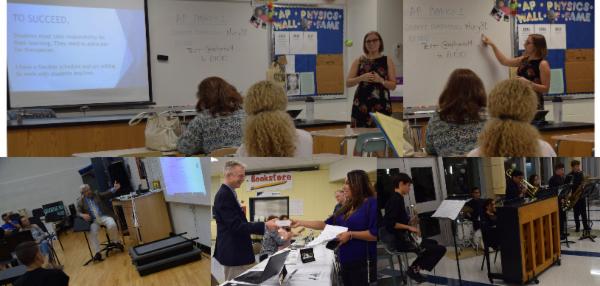 Top row (left and right): Addison Trail science teacher Kira Bonk greets parents/guardians during the school's Open House on Sept. 6. Bottom left: Mark Corey, Addison Trail Music and Art Department Head and Band Director, shares information about the music department with parents/guardians during the event. Bottom middle: District 88 received a grant through the Sprint "1Million Project," which provides Internet hotspots for students who meet the program requirements. Sprint will donate 1,500 hotspots to Addison Trail and Willowbrook for students who need Internet access outside of school. Pictured is District 88 Director of Technology, Teaching and Learning Dr. Aaron Lenaghan giving an Internet hotspot to Addison Trail parent Mayela Arreguin. To see the eligibility requirements, and to apply for an Internet hotspot, complete the form at https://www.dupage88.net/site/public/files/?item=4135 and return it to the Guidance Department, the school administrative team or the Library Media Center. Bottom right: Addison Trail music students provide entertainment throughout the evening.
On Sept. 6, Addison Trail students and parents/guardians attended the school's annual Open House.
Participants were able to tour the building; meet administrators and staff members; and learn about Addison Trail's curriculum as they followed an abbreviated version of their student's daily schedule. Principal Michael Bolden welcomed the group and shared successes of Addison Trail, as well as important information for the school year.
Nearly 400 students were represented in 1,941 classroom sessions.