Addison Trail names August recipient of 88's Best recognition
This video may take up to a minute to start after click the play button depending on your connection speed and browser.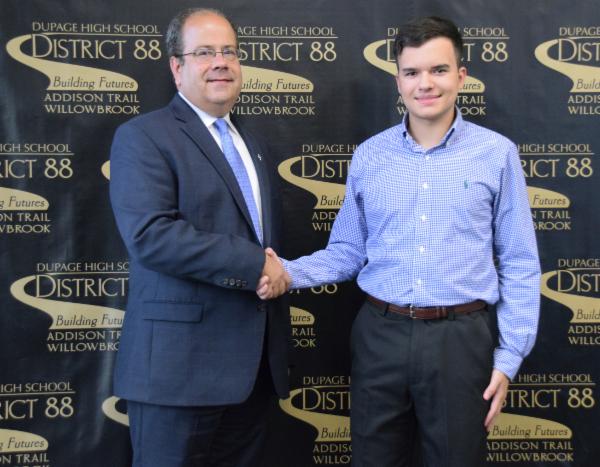 Pictured is Addison Trail senior Christopher Voinea (right), who has been named as the school's August recipient of 88's Best recognition. He's pictured with Addison Trail Principal Michael Bolden.
Christopher Voinea has been named as Addison Trail's August recipient of 88's Best recognition for his outstanding academic accomplishments. Voinea, a senior, was recognized during the Aug. 27 District 88 Board of Education meeting. To watch Voinea's 88's Best presentation, click the video above.
Voinea is an outstanding student and continues to challenge himself. He has taken on a rigorous schedule every year and continues to be a leader in and out of the classroom. When he graduates, Voinea will have taken 10 honors courses and 15 Advanced Placement (AP)/college-level courses.
"Voinea was in my sophomore honors chemistry class and junior AP physics I class," said Sean O'Connor, Addison Trail science teacher. "He has the talent to learn and understand quickly. In addition to strong academics, Voinea is a classroom leader. Students in class looked to him as an expert and often sought out his help. As a leader, rather than simply give an answer, Voinea provided the how and why to his peers' questions. It would be simple for Voinea to exist in the vacuum of his knowledge and success. Instead, he takes an active role in enhancing the Addison Trail community."
Addison Trail social studies teacher Laura Magnavite agreed.
"Voinea was an absolute joy to have in class!" Magnavite said. "His knowledge of AP European history BEFORE stepping into the classroom was epic. He was always the student I could rely on to get a class discussion going. His writing was superlative – so much so I used his first essay as a model sample for all of my classes (and still do). He also was fun to have in class, especially for debates, because he was so intensely devoted to winning the argument. We used to joke debates would be structured with Voinea versus the rest of the class!"
Voinea said he is self-motivated, but he also is motivated by his parents, who come from Romania. Voinea has a strong desire to represent his family in the best way and knows he can do that by being a conscientious and hardworking student.
Outside of the classroom, Voinea has been involved with Addison Trail's Academic Team and Key Club and has worked with various community service organizations to give a hand to those in need. But Voinea's primary involvement is with Addison Trail's Science Olympiad Team. He has been an integral part of the team since his freshman year and demonstrates his leadership by motivating and organizing his team members. Some of his favorite memories are from Science Olympiad and the rewards gained from those competitions.
Voinea has not yet decided where he will attend college, but he is pursuing University of Illinois at Urbana-Champaign, University of Wisconsin–Madison, Yale University and The University of Chicago. He is considering a degree in biological or chemical engineering.
District 88 values the hard work and achievements of students and wants to make sure students are honored and recognized for their accomplishments. The District 88 Board of Education and administration created the 88's Best award to highlight students' success. That award recognizes nine Addison Trail and nine Willowbrook students each school year for reaching their personal best in various areas. Recipients are honored during a District 88 Board of Education meeting in one of the following areas: academics, highly improved performance, extracurricular activities, service work or performing arts/electives. They receive an 88's Best glass sculpture and a certificate to a local restaurant.