Meet Addison Trail's class of 2018 graduation speaker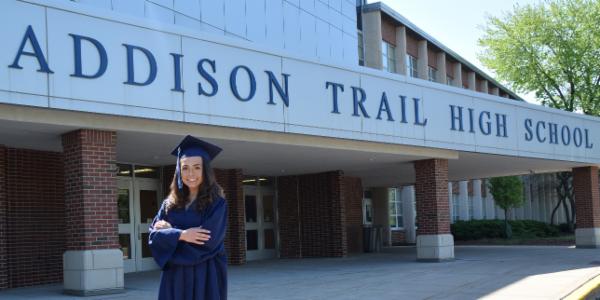 Pictured is Addison Trail senior Karlie Hagopian, who will serve as the student graduation speaker during Addison Trail's 52nd commencement ceremony on May 20.
On May 20, Addison Trail senior Karlie Hagopian will address about 450 of her classmates as the student graduation speaker during Addison Trail's 52nd commencement ceremony.
Hagopian entered the school's annual graduation-speech competition and was selected as this year's winner by a panel of judges. Her speech, entitled "The Amazing Race," will focus on reminding the class of 2018 to be grateful for what they have and what they've achieved as they look forward to the next step in life and reflect on the past four years of high school.
"I hope my peers are able to listen to the message of the speech and remember all the amazing things that have happened during the last four years, as well as think about all the memories we've made and how different life will be after graduation," Hagopian said.
Hagopian added she was inspired to enter the competition by Addison Trail World Language Department Head Erica Craig. During her freshman year, Hagopian learned Craig was the student speaker for her high school graduation, and Hagopian wanted to achieve that goal as well.
Hagopian is a 2018-19 State Scholar and received State Commendation toward Biliteracy recognition in Spanish, which is awarded to graduating high school students who have demonstrated significant progress toward achieving a high level of proficiency in English and in reading, writing, listening and speaking in another language.
During her time at Addison Trail, Hagopian has been a member of the Girls Volleyball Team and the Girls Soccer Team, and she also played at the club level in those sports. She has been involved with Student Council, Math Team, Key Club, National Honor Society and Blazer Ambassadors as well.
Hagopian plans to attend Loyola University Chicago, where she will study to become a nurse.
"What I've learned most from Addison Trail is no matter what life throws at you, you can handle it," she said. "Everyone at the school is here to help and support you. As I will mention in my speech, all the teachers, coaches and staff members at Addison Trail – along with our family members and friends – give us the tools and pieces we need to be successful. But it's up to us to put those pieces together to form our future and who we will become."
Addison Trail 52nd commencement ceremony online
Can't make it in person to Addison Trail's 52nd commencement ceremony on May 20? No problem! The graduation will be streamed live at 3 p.m. (CST) online at www.dupage88.net/atgrad.