Addison Trail hosts end-of-year events
As the 2017-18 school year comes to a close at Addison Trail, the school recently hosted several events to celebrate the successes from the year.
Student Recognition Assembly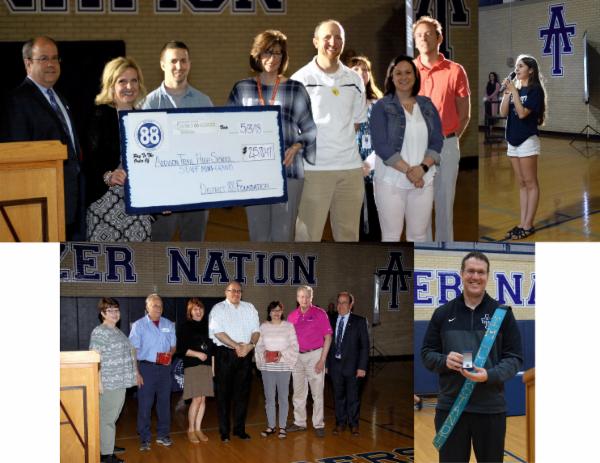 Top left: During Addison Trail's Student Recognition Assembly on May 3, the District 88 Foundation presented $2,576.47 in mini-grants for staff members to develop a variety of instructional opportunities to benefit students. Addison Trail Principal Michael Bolden (left) and Sharon Kucik (fourth from left), District 88 Foundation Chairperson and District 88 Board of Education Secretary, presented the mini-grants. Photo by HR Imaging Top right: Addison Trail senior Danielle Cusumano sings the National Anthem during the assembly. Bottom left: Pictured are (from left) 2017-18 Addison Trail retirees Margaret Bell, Edward DuBeau Jr., Laura Jurik, John Cord, M. Soledad Levulis and Michael Ross. Not pictured is retiree Norman Grubisich. At right is Addison Trail Principal Michael Bolden. Photo by HR Imaging Bottom right: Pictured is Brendan Lyons, Addison Trail Social Studies Department Head and Head Coach of the Boys Basketball Team, who was named as this year's Outstanding Achievement Award recipient for Addison Trail.
On May 3, Addison Trail hosted its annual Student Recognition Assembly. During that event, students were honored for their accomplishments in academics, athletics and extracurricular activities.
The 2017-18 staff retirees were highlighted as well. They are John Cord, Edward DuBeau Jr., Norman Grubisich, Laura Jurik, M. Soledad Levulis, Michael Ross and Margaret Bell. To read more about the retirees, go to https://www.dupage88.net/site/public/files/?item=3958. Brendan Lyons was honored as the 2017-18 recipient of the school's Outstanding Achievement Award.
The District 88 Foundation also presented mini-grants to staff members for the fifth year. That financial support will allow staff to develop a variety of instructional opportunities to benefit students. The foundation is proud to give $2,576.47 to Addison Trail staff members this year. The recipients are:
Jack Andrews, Lauren Ross and Nadia Gomez-Moran: BRC Chicago Voyagers 18-19
LeVonne Cescolini-Boyer: Close Up Scholarship
Christopher A. Grice: Rocketbook Everlast Notebook – SPED
Rose Janusz: Insta*Library
Math Department: Graphing calculators
Senior Takeover Day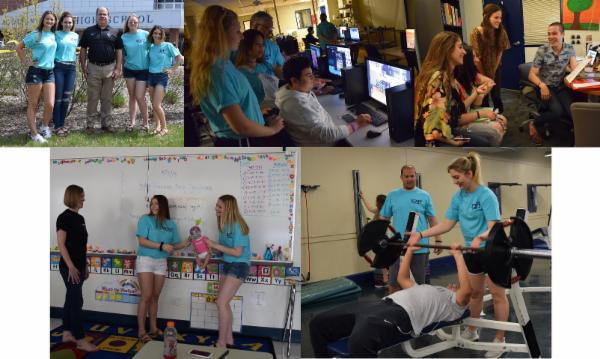 Top left: (From left) Addison Trail seniors Mena Severino, Mia Rumps, Holly Schwartz and Grace Andrews "take over" for Addison Trail Principal Michael Bolden (center) during Senior Takeover Day on May 2. Top middle: Addison Trail sophomore Julian Monarrez (sitting) gets feedback from seniors Diana Grinyuk (standing at left) and Nicole Arquines as they "take over" for Addison Trail art teacher Tim Hockensmith (standing at right). Top right: Addison Trail students "take over" for Addison Trail Choir Director Jeff Nellessen (right). Bottom left: Addison Trail seniors Delaney Conway (center) and Camryn Cunz (right) "take over" the Child Development class for Addison Trail teacher Lija Marzec (left). Bottom right: Addison Trail senior Patrycja Sawina assists sophomore Sam Conforti as she "takes over" for Addison Trail physical education teacher Ryan Dini (standing in back).
On May 2, about 80 seniors "took over" for teachers, administrators, clerical staff, the guidance office and the deans office during Addison Trail's seventh annual Senior Takeover Day. All seniors were eligible to participate, as long as they were in good academic standing and received permission from the respective staff member. The seniors coordinated meetings, ran errands, helped teach classes and more.
PBIS barbecue

Left: Addison Trail Social Worker Jorge de Leon (left) and Social Studies Department Head Brendan Lyons cook hotdogs during the school's annual end-of-year Positive Behavioral Interventions and Supports (PBIS) barbecue. Middle: Addison Trail freshman Ian Reyes competes in one of the games at the barbecue. Right: Addison Trail senior Gianna Trippiedi plays a game of bags during the event.
On May 2, the Addison Trail Positive Behavioral Interventions and Supports (PBIS) team hosted its annual end-of-year barbecue. The PBIS program was implemented in fall 2007 to teach students expected behaviors, rules and what it means to be a Blazer. The goal of the program is to develop a positive school climate through creating common language and standards. The barbecue is a time to celebrate improved behaviors at Addison Trail and is an opportunity to communicate behavioral data for the year not only to the staff, but to the students as well. Each year, the program recognizes acts of "Blazer Pride" with a personalized card and a cookie, and this year the PBIS team streamlined the cookie nominating process. The group also worked to get more underclassmen involved in PBIS. Staff, students and community members volunteered during the barbecue, and administrators took to the grill to cook up a tasty lunch for participants.