Addison Trail Guidance Department hosts 8th annual College Fair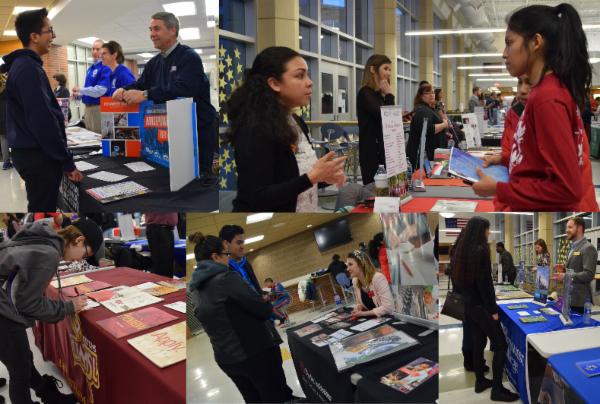 On April 4, the Addison Trail Guidance Department hosted its 8th annual College Fair. Top left: Addison Trail junior Kevin Esparza shares a laugh with John Hankes from Universal Technical Institute. Top right: Addison Trail junior Lizbeth Balbuena gets information about Florida Atlantic University from Alexandra Salas with the university. Bottom left: Anika Wilen, a junior at Bartlett High School, fills out a form with University of Missouri-St. Louis. Bottom middle: Addison Trail freshman Julian Hernandez and his mother, Carolina Diaz, speak with Mallory Untch from The Illinois Institute of Art—Schaumburg. Bottom right: Franklin Gaglione from Elmhurst College chats with a student.
On April 4, about 700 people attended the Addison Trail Guidance Department's 8th annual College Fair, which included high school students from throughout DuPage County and their parents/guardians.
During the fair, participants were able to meet with representatives from nearly 100 colleges and universities to learn more about each campus, including the admissions process and requirements.