Counseling Corner: Addison Trail Guidance Department shares important information about summer school and college entrance exams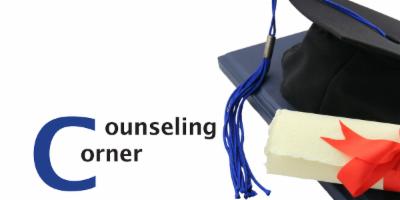 The Addison Trail Guidance Department is committed to providing opportunities to help prepare students for success in their post-secondary education.
As part of that focus, the department shares important information about summer school registration and upcoming college-entrance exams.
Summer school
This year, Addison Trail will offer a variety of summer school classes from June 4 to 29. Those classes focus on helping students earn credit to stay on track for graduation, as well as provide an opportunity for students to take more courses that count toward graduation. Students who were not successful in their graduation-requirement courses are automatically enrolled in the school's computer-based or teacher-led credit recovery program. Students looking to get ahead in earning credits are able to participate in the following courses: Public Speaking and Communication, Online Consumer Management, Consumer Management, Accelerated Geometry, Driver Education or Economics. The deadline to register for summer school is April 20. Students must fill out a registration form, and payment can be made in the Financial Office (near Door 1).
Along with the traditional summer school offerings, District 88 also provides two unique programs for students.
Advanced Placement (AP)/college-level class preparation: This is a weeklong course for students who are interested in participating in AP classes to help them prepare for and succeed in AP. This course is available to incoming freshmen and current District 88 students, and it is highly recommended for students who have not taken an AP class.


STEM Camp: District 88, along with its associate elementary districts (Addison School District 4, District 45 and Salt Creek School District 48), will once again offer a STEM Camp for middle and high school students. This will be the third summer for our STEM Camp, which allows students to work on coding and robotics skills. Participants will create apps for Android devices, as well as program robots to perform specific functions. More information on how to sign up for the STEM Camp will be provided to students.
For details about the above programs, contact the Addison Trail Guidance Department at 630-628-3324.
National SAT and ACT dates
On April 10, the Illinois State Board of Education will provide the College Board's SAT exam, including a writing component, at no cost to all public high school juniors. That assessment provides a college-reportable score for admissions purposes. Eligible Addison Trail juniors will pre-register for that assessment on April 3 at school.
After each student completes the SAT assessment, he or she will receive a score report that outlines the student's strengths and areas for improvement through an online portal with the College Board and an overview of the student's college and career readiness. Also through the College Board account, each student will receive individualized tutorials from Khan Academy on how to improve in his or her areas of growth.
All college-bound juniors are encouraged to take another SAT and/or ACT exam on a national testing day as well.
You can register for the national SAT exam at www.collegeboard.com. The upcoming test dates for the national SAT are May 5 and June 2. Be sure to register for the national test dates more than a month in advance to avoid late fees. The cost is $46 (without writing).


You can register for the ACT at www.act.org. The upcoming national test dates for the ACT are April 14 (might incur a late fee) and June 9. Be sure to register for the national test dates more than a month in advance to avoid late fees. The cost is $46 (without writing).
Both exams have an optional writing portion for an added fee. The writing portion is required for select colleges and universities. Consult the college or university website to see whether the writing portion is necessary for admission. For questions about the SAT or ACT, contact Guidance Counselor Shane Cole at scole@dupage88.net or 630-628-3322.
Addison Trail College Fair
Students – be sure to attend the Addison Trail College Fair from 6 to 8 p.m. on April 4. The event will feature about 80 colleges/universities and is open to all District 88 students (freshmen through seniors) and their families, as well as students and families from local high schools.