District 88 to host Young Hearts for Life free cardiac screenings
District 88 is committed to ensuring the safety, health and well-being of its students.
As part of that mission, the district has partnered with the Young Hearts for Life® (YH4L) Cardiac Screening Program, a not-for-profit organization affiliated with Advocate Charitable Foundation, to offer free electrocardiograms (ECGs) to identify high school students at risk for heart conditions. District 88 highly encourages parents/guardians to register their student for this event, and details are listed below.

ADDISON TRAIL YOUNG HEARTS FOR LIFE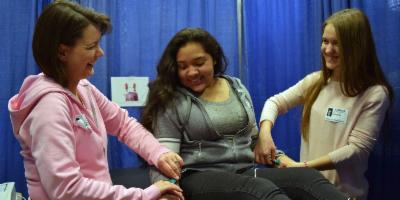 When: Feb. 22, 2018
Where: Addison Trail High School, 213 N. Lombard Road in Addison
Register your student: Parents/guardians can register their student at www.dupage88.net/ATYH4L to be screened. For frequently asked questions about the screening process, go to http://www.yh4l.org/faq.
Video contest: Students are encouraged to participate in the Young Hearts for Life Video Contest. The best video at each school will receive $100 and will be entered to win the grand prize of $500. Entries should be two to three minutes long and focus on the benefits of receiving a cardiac screening. The deadline to submit videos is May 1, 2018. For details, go to www.dupage88.net/YH4LVideoContest.
---
Parents/guardians and community members also are needed to help run the event, and details about how to sign up as a volunteer are listed below.
Volunteer at this event:
Sign up to be a volunteer and help at Addison Trail's Young Hearts for Life event at www.dupage88.net/ATYH4LVolunteer.


Volunteering involves:

Attending a training session on Feb. 21 from 5:30 to 7 p.m. or from 7 to 8:30 p.m. (A 30-minute training session is available for returning volunteers from 5:30 to 6 p.m. or from 7 to 7:30 p.m.)


Committing to a 4.5-hour shift on Feb. 22 from 7 to 11:30 a.m. or from 10:45 a.m. to 3 p.m. Volunteers also can sign up for the full day (from 7 a.m. to 3 p.m.). A light lunch will be provided to those who volunteer for the full day.


For questions or more information about Young Hearts for Life, go to http://www.yh4l.org, or contact District 88 Director of Community Relations Dani Brink at 630-530-3989 or dbrink@dupage88.net. District 88 would like to thank Edward-Elmhurst Health for sponsoring this event.