Addison Trail hosts annual Pack the Place
On Jan. 26, Addison Trail hosted its annual Pack the Place event, which featured Addison Trail Girls Basketball Team and Boys Basketball Team games against Morton District 201. Although the teams didn't win, the community support and school spirit were tremendous!
On the court, Girls Basketball Team Head Coach Rob Schader (pictured below, left) and Boys Basketball Team Head Coach Brendan Lyons (pictured below, right) donned white tuxedos while they coached, as the result of a Twitter contest to promote Pack the Place and as part of the school's "Whiteout" to show Blazer Pride during the games.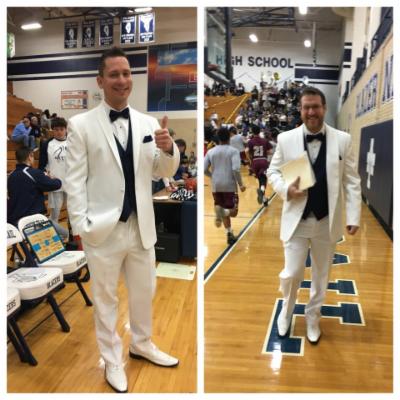 Halftime performances featured the school's Energy Rush, Orchesis and a special preview of Addison Trail's winter musical, "Singin' in the Rain," which takes place on Feb. 1, 2 and 3 (see details at https://www.dupage88.net/site/page/7941). The Blazettes also danced with participants from their Winter Dance Clinic, where girls in kindergarten through eighth grade worked on pom/dance techniques and enjoyed crafts and pizza.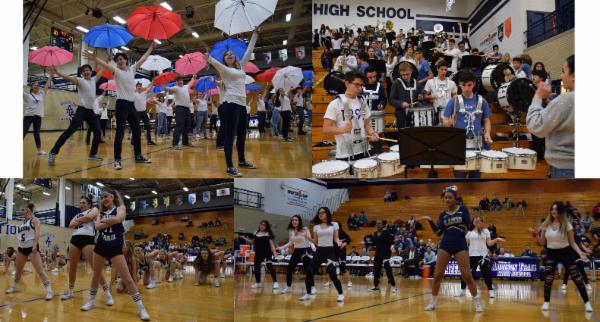 Addison Trail student groups perform during the school's Pack the Place games on Jan. 26. Top left: Students show a preview of Addison Trail's winter musical, "Singin' in the Rain." Top right: Addison Trail music students entertain the crowd. Bottom row: Orchesis (left) and Energy Rush (right) get the audience pumped up for the game.
During the event, alumni were invited to gather, network and reconnect with their alma mater and fellow graduates.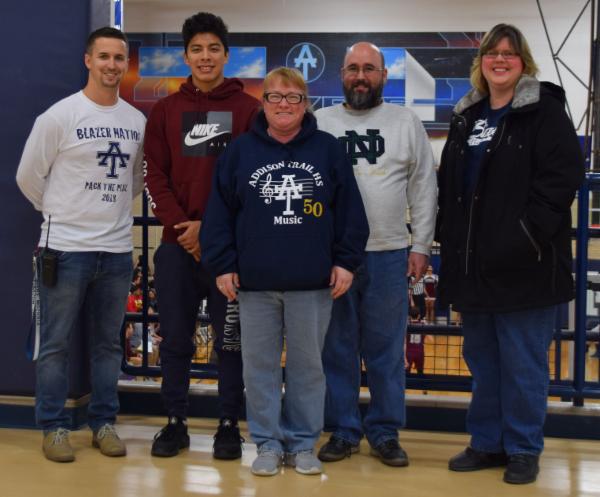 Addison Trail alumni reconnect with their alma mater during the school's Pack the Place event on Jan. 26. They are (from left) Jack Andrews (class of 2011), Carlos Alvarez (class of 2017), Jennifer Lollino (class of 1991), Vince Lollino (class of 1992) and Robin Beersslojkowski (class of 1989). Andrews is a special education teacher at Addison Trail, and Beersslojkowski is a literacy/study hall aide at the school.
The evening was part of Addison Trail's "Pack the Place Week," a winter spirit event hosted by Lettermen's Club to celebrate the school's Blazer Pride. Throughout the week, students and staff participated in a variety of activities and themed days. The week ended with a Winter Formal Dance on Jan. 27, which had a record-breaking attendance of about 500 participants.