Addison Trail names January recipient of 88's Best recognition
This video may take up to a minute to start after click the play button depending on your connection speed and browser.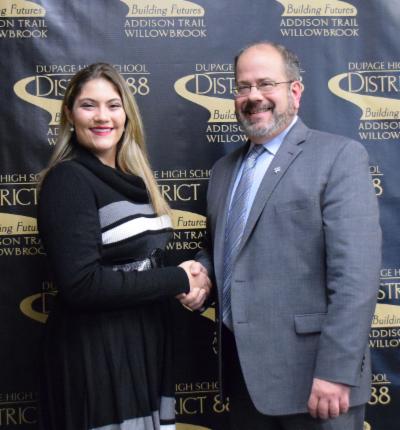 Pictured is Addison Trail senior Angela Addante, who has been named as Addison Trail's January recipient of 88's Best recognition. She's pictured with Addison Trail Principal Michael Bolden.
Angela Addante has been named as Addison Trail's January recipient of 88's Best recognition for her stellar involvement in extracurricular activities. Addante, a senior, was recognized during the Jan. 29 District 88 Board of Education meeting. To watch Addante's 88's Best presentation, click the video above, or go to https://dupage88.net/site/page/7961.
Addante serves as President of National Honor Society and Tri-M (Modern Music Masters) Honor Society. She also is editor of the ATtribute Yearbook and is a varsity tennis player and a member of theatre and band – and that's only half of what she does as a senior at Addison Trail.
Addante has always been involved at school and has participated in theatre since she was in grade school. She said she values the time she has had to get to know the different students at Addison Trail and the friendships she has formed during the hours she has spent in all of the afterschool activities in which she participates. She added the most meaningful time spent has been her involvement in yearbook and theatre.
"As editor-in-chief of yearbook for the last two years, Addante has immersed herself in all editor responsibilities," said Jessica Clark, English teacher and yearbook advisor. "She understands to create a yearbook for the entire student body, you have to know the entire student body. She will attend events and activities hosted by various sports and clubs she is not involved in just so we can get a wider range of kids in the book. She is one of the most dedicated and passionate yearbook kids I've ever had. Addante goes above and beyond her responsibilities and wants our entire class to take pride in their work. I am very proud of her and appreciate everything she has done for our yearbook staff."
Addante also has been a member of theatre since her freshman year and has worked in various roles.
"Addante has always been one of the most polite, dependable and hardworking students," said Anna Jakubka, Addison Trail English teacher and Theatre Director. "I know her time is divided in many activities, but she is an exemplary thespian and theatre student. Any time she serves on a crew, she does her work with excellence, and she is always someone I can depend on."
Not only has Addante made her mark in numerous school activities, but she also is an excellent student at the top of her class. She takes on an extremely rigorous course load and has taken 10 Advanced Placement (AP)/college-level courses and 11 Honors courses, earning As in almost every single class. She is a State Scholar as well.
Addante plans to attend Illinois State University, Valparaiso University or Loyola University Chicago. She is a finalist for the Golden Apple Scholars Program and is thinking about double majoring in education and psychology.
Addante is contemplating a career in education research. She believes learning off of a test is not always the best method for all students, and she is intrigued by helping policymakers make better decisions in education reform.
District 88 values the hard work and achievements of students and wants to make sure students are honored and recognized for their accomplishments. The District 88 Board of Education and administration created the 88's Best award to highlight students' success. That award recognizes nine Addison Trail and nine Willowbrook students each school year for reaching their personal best in various areas. Recipients are honored during a District 88 Board of Education meeting in one of the following areas: academics, highly improved performance, extracurricular activities, service work or performing arts/electives. They receive an 88's Best glass sculpture and a certificate to a local restaurant.