Addison Trail names December recipient of 88's Best recognition
This video may take up to a minute to start after click the play button depending on your connection speed and browser.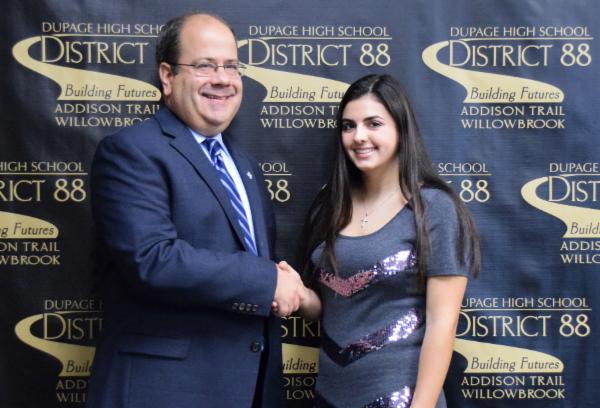 Pictured is Addison Trail senior Lauren Stamatopoulos, who has been named as Addison Trail's December recipient of 88's Best recognition. She's pictured with Addison Trail Principal Michael Bolden.
Lauren Stamatopoulos has been named as Addison Trail's December recipient of 88's Best recognition for her outstanding academic accomplishments. Stamatopoulos, a senior, was recognized during the Dec. 18 District 88 Board of Education meeting. To watch her 88's Best presentation, click the video above.
During her high school career, Stamatopoulos has taken 10 Honors courses and 10 Advanced Placement (AP)/college-level courses. Her grades and test scores rank her at the very top of her class, and she has worked hard to be successful. She is an AP Scholar and a State Scholar and has been on the honor roll all four years.
"Stamatopoulos was consistently the most prepared and engaged student in my AP Language class," said Amy Ferraro, Addison Trail English Department Chair. "She actively participated in class discussions and was willing to take risks when answering challenging questions or analyzing complex texts. Stamatopoulos is a thoughtful and reflective writer, who eagerly accepts feedback on her work. Her willingness to ask questions and seek clarification was beneficial to the entire class on a daily basis. She is organized, responsible and extremely motivated to succeed. More importantly, Stamatopoulos is genuinely curious and interested in learning. She seeks perfection for personal growth more than for good grades and points on assignments."
Outside of being an excellent student, Stamatopoulos also excels in her extracurricular activities. She serves as Treasurer for Student Council, Business Professionals of America (BPA) and the Class of 2018. Stamatopoulos has been a member of Student Council, Key Club, National Honor Society, Pay It Forward, Blazer Ambassadors and the Addison Trail Girls Gymnastics Team, of which she is a Captain this season.
"Stamatopoulos is not the best gymnast on the Addison Trail Girls Gymnastics Team, and you won't see her doing the highest-level skills in the gym," said Eric Norberg, Addison Trail Girls Gymnastics Team Coach and math teacher. "However, Stamatopoulos is the Captain of our team and is still the most valuable gymnast on our team. She is a natural leader; someone the older gymnasts respect and the younger gymnasts look up to. She is very much deserving of the District 88's Best award."
Addison Trail Career and Technical Education (CTE) teacher and sponsor of the Class of 2018 Jennifer Kowalski agreed.
"I have had the pleasure of working with Stamatopoulos these past three and a half years, as she has served as Treasurer for the Class of 2018," Kowalski said. "She always goes above and beyond her duties as Treasurer. She often took the leadership role and was a tremendous help when planning prom. Stamatopoulos was the one we could always count on to be there for any fundraiser, meeting or activity we hosted. She has exceptional organizational skills and always puts her all into everything she does. I am so thankful I was able to get to know her these past few years, and I know she will be successful in her future endeavors. I wish her nothing but the best!"
After graduating from Addison Trail, Stamatopoulos plans to study actuarial science. Her top three choices for college are The University of Alabama, The Ohio State University and University of Kentucky.
District 88 values the hard work and achievements of students and wants to make sure students are honored and recognized for their accomplishments. The District 88 Board of Education and administration created the 88's Best award to highlight students' success. That award recognizes nine Addison Trail and nine Willowbrook students each school year for reaching their personal best in various areas. Recipients are honored during a District 88 Board of Education meeting in one of the following areas: academics, highly improved performance, extracurricular activities, service work or performing arts/electives. They receive an 88's Best glass sculpture and a certificate to a local restaurant.