Addison Trail students inducted, reaffirmed into National Honor Society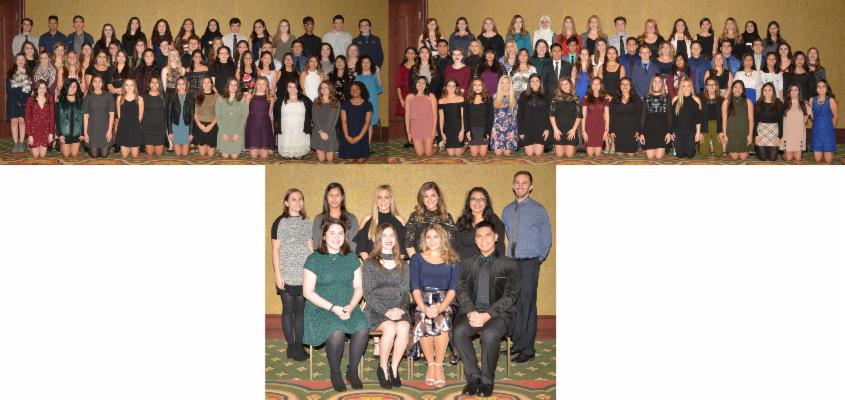 Top left: Pictured are Addison Trail juniors who were inducted into the Addison Trail Chapter of the National Honor Society (NHS) on Nov. 30. Top right: Pictured are Addison Trail seniors who were inducted or reaffirmed into the NHS. Bottom: Pictured are the Addison Trail NHS Officers. They are (back row, from left) NHS Faculty Advisor Kira Bonk, senior Michelle Ramirez (Historian), senior Alessia Calzante (Co-Vice President), senior Dionisia Vassos (Co-Vice President), senior Maria Chavez (Treasurer), NHS Faculty Advisor Matt Lindgren, (front row, from left) senior Taylor Campbell (Co-Secretary), senior Katarina Surjancev (Co-President), senior Angela Addante (Co-President) and senior Ethan Macaraeg (Co-Secretary). Photos by HR Imaging
On Nov. 30, 71 junior and senior students from Addison Trail were inducted into the Addison Trail Chapter of the National Honor Society (NHS), and 69 seniors were reaffirmed.
To see a list of the 2017-18 Addison Trail NHS members, go to https://www.dupage88.net/site/public/files/?item=3712.
Being inducted into the NHS involves more than being on the honor roll and maintaining good grades. Addison Trail's chapter accepts individuals based on their outstanding performance in the areas of scholarship, service, leadership and character. Those criteria for selection form the foundation on which the organization and its activities are built. To be eligible for Addison Trail's NHS, students must be enrolled in four full-credit courses and maintain at least a 3.5 cumulative GPA.