Addison Trail alumna wins 'Miss Mexican Heritage Scholarship Pageant' title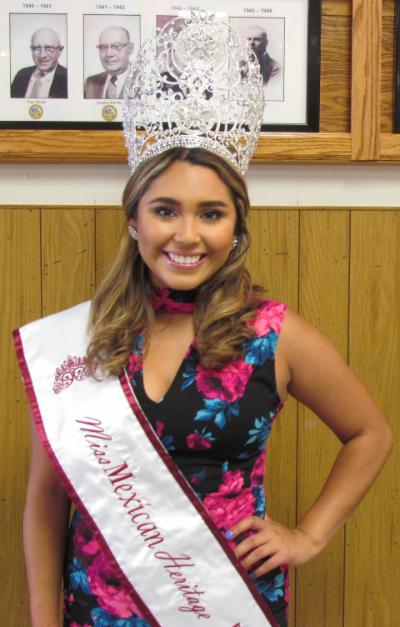 If you had asked Addison Trail alumna Bianca Reyes (class of 2016) how she felt about pageants a year ago, you might not get the most favorable answer.
But her perspective and understanding of the pageant world have changed in the last year, as she was crowned Miss Addison in 2016 and Miss Mexican Heritage on Sept. 8. The Miss Mexican Heritage Scholarship Pageant Program is a four-month professional development program hosted by Mexican Cultural Center DuPage that ends in the Scholarship Pageant, where three participants are awarded a college scholarship.
"I never really wanted to be in pageants, because I thought all they cared about was physical looks," Reyes said. "But I now know there's so much more to these competitions. The judges are looking for more than beauty – they really care about the whole package, including academics and volunteer work."
Reyes had never participated in the Miss Mexican Heritage Scholarship Pageant before, but she was excited to share her culture with others. Contestants had to participate in workshops on various topics such as motivation, poise, financial independence, interview skills and politics and attend events throughout the summer. The pageant included writing an essay on a state in Mexico, representing that state in a garment competition and participating in a question-and-answer session.
Reyes was not only crowned Queen, but she also won the "Best Essay," "Best Dressed" and "Miss Photogenic" titles. She focused on Jalisco, where her parents were born.
"I truly didn't think I was going to win," Reyes said. "I was really shocked, and I also was very excited, because I knew my parents were proud I showcased our heritage. Getting this title means a lot to me, as it's an opportunity to represent Latinos. My parents have sacrificed a lot to be here, and I wanted to compete in this pageant to show when you put your mind to it, you can achieve anything – no matter your background."
One of Reyes' first duties as Queen was to participate in the Mexican Independence Day Festival on Sept. 16 and 17, which was presented by Mexican Cultural Center DuPage, with support from the City of West Chicago. Reyes said she looks forward to other events and opportunities she will get to experience.
Reyes added she is grateful for her years at Addison Trail, as they helped prepare her for a successful future.
"Addison Trail does a great job trying to keep students involved and offers many opportunities with different clubs and activities," Reyes said. "The teachers also care tremendously about your future as well. They take the time to help you with FAFSA, college applications, scholarship applications and more. Because Addison Trail provided me with all the resources I needed, I am now thriving in college and beyond."
During her time at the school, Reyes was a member of the Blazettes, Girls Soccer and Orchesis teams and participated in Choir and the International Dance Show. Beyond the classroom, Reyes is a Commander with the Addison Police Explorers. She also served in the Addison Police Department's Peer Jury program and was certified through the Community Emergency Response Team (CERT) program.
She is now a sophomore at Western Illinois University and plans to major in international relations and Spanish. She also is considering a minor in criminal justice.