Addison Trail names September recipient of 88's Best recognition
This video may take up to a minute to start after click the play button depending on your connection speed and browser.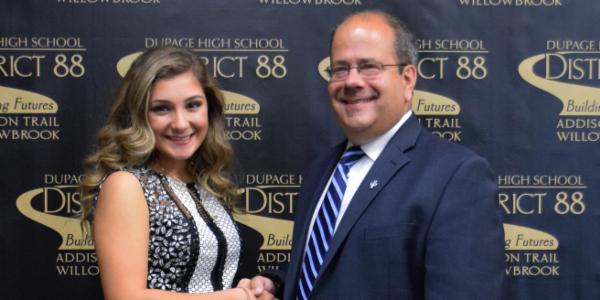 Pictured is Addison Trail senior Dionisia Vassos, who has been named as Addison Trail's September recipient of 88's Best recognition. She's pictured with Addison Trail Principal Michael Bolden.
Dionisia Vassos has been named as Addison Trail's September recipient of 88's Best recognition for her outstanding academic accomplishments. Vassos, a senior, was recognized during the Sept. 25 District 88 Board of Education meeting. To watch her 88's Best presentation, go to https://www.dupage88.net/site/page/7722 (or click the video above).
Throughout her four years at Addison Trail, Vassos has taken the most rigorous courses available and has not only participated, but been a leader in numerous clubs, activities and sports.
Vassos' academic record speaks for itself – she has received As in every course she has taken (including eight Advanced Placement (AP)/college-level courses and 14 Honors courses) and has continually challenged herself to take classes she not only enjoys, but knows will help her in the future.
"I had the privilege of having Vassos in Speech class," said Katie Inzinga, Addison Trail English teacher and Girls Volleyball Team coach. "Not only was she over prepared and extremely organized, but her speeches were always delivered fantastically, with emotion and enthusiasm. She truly captivated her audience for every speech she presented, utilizing her range of voice and facial expressions. It is clear Vassos takes pride in her academics and strives to achieve the highest standards. She continually wants to learn to better her education and will do well in her future endeavors."
Vassos is Co-Captain of the Girls Volleyball Team, Vice President of Student Council, Vice President of National Honor Society and is a member of Best Buddies, the Class of 2018 Board and Choir. She also volunteers at AMITA Health Alexian Brothers Medical Center. This is just a small picture of the many things she has participated in during her four years as a Blazer.
"I have had the pleasure of teaching and coaching Vassos," said Jessica Clark, Addison Trail English teacher and Girls Volleyball Team coach. "She is an exemplary kid, who takes advantage of everything school has to offer. I have never met a kid who is as jazzed to be in high school as Vassos. From the moment I started coaching her as a freshman, I knew this girl was something special. Her positive attitude and outgoing personality are unparalleled. Having Vassos in class was no different. She is highly motivated and has a positive influence on those around her. She is very deserving of this recognition. I feel lucky to have had the opportunity to get to know her over the last four years."
Dan Styler, Addison Trail social studies teacher and head coach of the Varsity Girls Volleyball Team, agreed.
"I've had the pleasure of knowing Vassos in the capacity as one of her volleyball coaches at Addison Trail over the past four years," Styler said. "Her contagious laugh and vibrant personality make her teammates gravitate toward her. Our coaching staff always talks about how Vassos is a kid who just loves every facet of high school. Her performance in the classroom, coupled with her sense of service to others, will take her very far in life. We are very proud of her. Go, Blazers!"
Vassos' Blazer Pride exudes from her whole being, and it is truly infectious. She has joined so many clubs and activities because she cares deeply about her school and wants to make it even better through serving as a leader. She works hard to include everyone in school activities and tries to make high school a positive place for her classmates, just as it has been for her.
Vassos is in the process of applying to various colleges and universities, but at the top of her list are Indiana University, The University of Iowa and University of Illinois at Urbana-Champaign. She plans to study science and has aspirations to be a hospital pharmacist. Above all, she wants to help people and knows that by combining her passion for science, she will achieve that goal.
District 88 values the hard work and achievements of students and wants to make sure students are honored and recognized for their accomplishments. The District 88 Board of Education and administration created the 88's Best award to highlight students' success. That award recognizes nine Addison Trail and nine Willowbrook students each school year for reaching their personal best in various areas. Recipients are honored during a District 88 Board of Education meeting in one of the following areas: academics, highly improved performance, extracurricular activities, service work or performing arts/electives.