District 88 receives $10,000 grant from TMA Education Foundation to benefit students
At District 88, our mission is to work for the continuous improvement of student achievement.
We know we're able to accomplish that goal through our partnerships and the support of outside organizations. And on April 17, we had another example of that incredible support when we received a $10,000 grant from the TMA Education Foundation to benefit our students. That grant will allow us to buy machinery that will give students hands-on experience with equipment used in the manufacturing industry. The TMA Education Foundation is dedicated to improving, sustaining and promoting manufacturing technology education and encouraging the pursuit of careers in the industry. For more information, go to http://tmaef.org.
The grant will fund a vertical mill (a vertical machining center) for manufacturing courses at Addison Trail. The mill uses rotary cutters to remove material from a workpiece to machine parts to precise sizes and shapes.
We know providing these opportunities and exposing students to skills used in the field helps prepare them to be college and career ready and builds successful futures. On behalf of District 88, I would like to thank the TMA Education Foundation for their generosity and for making a positive difference in the lives of our students.
Thank you for your continued support of District 88.

Scott J. Helton, Ed.D.
Superintendent of Schools, DuPage High School District 88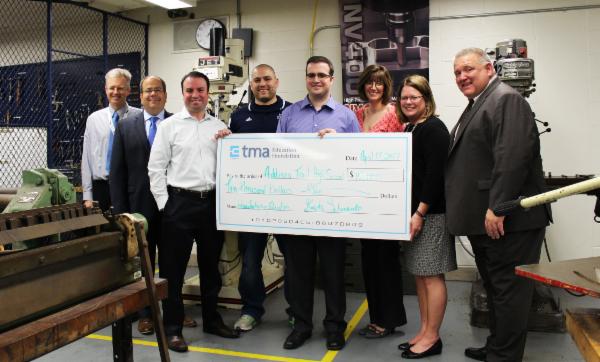 The TMA Education Foundation presents District 88 with a $10,000 grant to benefit District 88 students. Pictured are (from left to right) District 88 Director of Technology, Teaching and Learning Dr. Aaron Lenaghan; Addison Trail Principal Michael Bolden; TMA Chairman Aaron Wiegel with Wiegel Tool Works, Inc.; Addison Trail Career and Technical Education (CTE) teacher Jeff Angle; TMA Education Foundation Treasurer Ryan Wiegel with Wiegel Tool Works, Inc.; District 88 Board of Education Secretary and District 88 Foundation Chairperson Sharon Kucik; Addison Trail CTE Department Chair Juliann Boudouris and District 88 Superintendent Dr. Scott Helton.