Addison Trail Graduation / Commencement Ceremony
* Seniors, we invite you to share your graduation photos on Twitter and Facebook! Use hashtag #BlazerStrong, so we can post your photos in the District 88 Newsletter and on our website and social media and send them to the local media. (PLEASE NOTE: Using this hashtag means you give permission for your photos to be published through the platforms mentioned above.)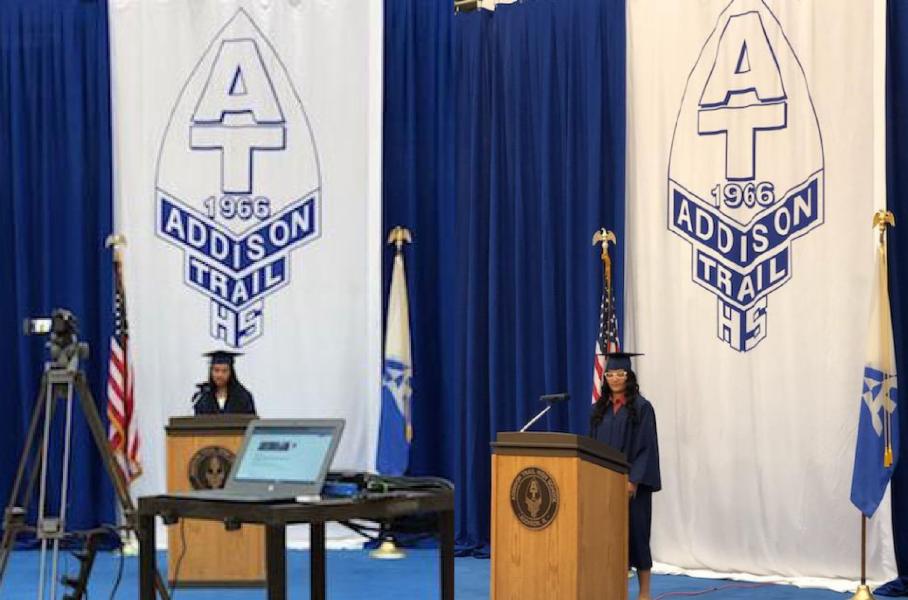 Congratulations to Addison Trail seniors Parvathy Nair (pictured above, left) and Stephanie Avila (pictured above, right) for being selected as the graduation student speakers to represent their classmates.
On May 17, we celebrated nearly 900 seniors who graduated from District 88 during our first virtual commencement ceremonies. We look forward to honoring these students in person at a later date, when it is determined we can safely gather for large events. To watch the Addison Trail commencement ceremony, click the video above.
To the class of 2020: Be proud that you are the first group of Illinois public high school seniors to adapt to Remote Learning, that you have shown your underclassmen peers what Blazer Pride and Warrior Pride truly means and that you have handled adversity with grace and innovation. That is what will define you as you graduate from District 88 and move on to the next step in your life. While your high school career didn't end the way any of us hoped for, the legacy you've left behind at Addison Trail will live on for years to come. Our preliminary numbers indicate 87 percent of the Addison Trail class of 2020 plans to attend a two- or four-year post-secondary school or a technical school.
Thank you to the businesses and intergovernmental agencies in Addison and Villa Park that posted messages of congratulations for the class of 2020 on their signs and marquees. To see those messages, click the video below.